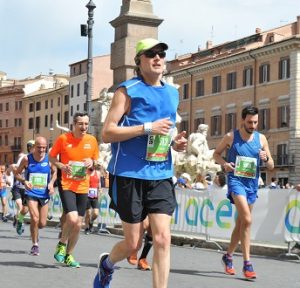 When did you begin running and why?
In 2011, at the gentle age of 42. Something mysterious pushed me to the gym. I was about 50 pounds heavier at the time and began walking on a treadmill, slowly increasing my speed from one workout to the next. In a couple of months, it naturally transitioned into running; then,at some point, moved from the gym to outdoors.
How did you find out about DCRRC and when did you join?
In the spring of 2012, I started taking part in all sorts of races (still remember the very first one – Crystal City 5K Fridays, April 6). Soon after, I realized that I needed to find a running community or a club with a decent number of lower key, less commercial races. 30 minutes of googling, and I knew the name of that club. I registered for the Bastille Day 4-Miler and joined the club right after the event.
What are you training for right now?
Chicago Marathon. Never did any of the World Majors before, so it'll be my first. And, yet another attempt at qualifying for Boston.
What is the toughest run or race you've ever participated in?
Obviously not by the course profile, but for me, subjectively, it must be the Marine Corps Marathon 2016. Too hot, too humid, too unprepared. I think I lived several lives during the span of these 4+ hours.
What's your favorite part about being a DCRRC member?
It's the time after finishing a club race, when everyone is moving around the tables with drinks and snacks, refueling and waiting for the awards.
What's the most important lesson running has taught you?
I won't be original here – it's the realization that the toughest workouts, when you're on the edge of quitting, or even cross that edge, – these are the ones that change you the most.
What is your favorite route in the area?
I love the Sugarland Run Trail in Herndon. Shaded, peaceful, well maintained, lots of stream crossings.
What race day traditions do you have?
I guess I can say that my first and foremost tradition is to never do any pre-race warm-ups… For the marathon races, I start the morning with a black coffee and a peanut butter sandwich 2-3 hours before the gun time.
What's your proudest running moment?
Rock'n'Roll DC 2015 – it was a rainy day, and it was the year when they altered the course, adding the second, quite lengthy hill at around mile 23 (in addition to the existing, 'killer' hill at mile 6). I never forget the moment I crossed that finish line with (then) a PR of 3:50. I also nearly died of hypothermia immediately after that…
What's your life like outside of running?
I am making the Internet work for a living… I also love art and Russian poetry, camping, travelling, and serving as an Election Officer at Loudoun County precincts.
What is one thing you wouldn't run without?
Headphones with a good audio book or some interesting music playing.