Rich Mendelowitz, President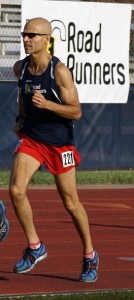 Rich joined up with DCRRC in 2010. He is a regular at Saturday long runs (SLR), a coach for the club's Thursday morning track program and he leads the clubs Monday morning 10M group run.
Rich grew up in New York City and went to the University of Michigan where he picked up a love for running. He ran his first race in 1979 and has run hundreds since. With 13 marathons under his belt the highlight of his running career remains qualifying for and completing the Boston Marathon in 1989.
Rich and his family love fun vacation adventures. He is also a Boy Scout leader who enjoys high adventure outings of all kinds. By day Rich works for General Dynamics IT and is their Chief Technology Officer. He is an avid sports fan and sports trivia nut and of course a die-hard Michigan football and basketball fan.
Miguel Matta, Vice President for Operations
Raj Bhanot, Vice President for Races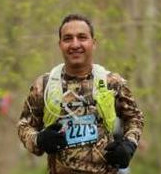 Raj (Athlinks)  joined up with DCRRC in 2010. He is regular to club races. The 2004 Marine Corp Marathon was his first marathon, since then he has ran over 65 marathon and ultras. Raj is RRCA certified coach.
When he's not running or working as a data warehouse architect, he loves yoga, biking, outdoors, watching sports, dance and listening to Indian music.
Chris Johnston, Vice President for Training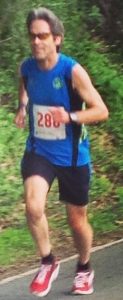 Chris Johnston been a DCRRC member since 2005. As a competitive runner in his youth, Chris was a four-year varsity letter winner, all-county miler and school record holder at Hightstown HS (NJ), then ran cross-country and track as a walk-on at Saint Joseph's University in Philadelphia. He retired from competition after college, but continued running recreationally, and in 2004 at the age of 40, came out of retirement. Since then, Chris has run 14 marathons, including four Boston Marathons, most recently running his current PR (3:18:25) there in 2014. As a master's runner, Chris has frequently competed on DCRRC teams, at a wide variety of distances. In 2014, he was a Top Ten Men's 50-54 age group finisher in RunWashington.com's annual runner rankings. He also is a USATF Level 1 certified running coach who will be adding RRCA certification in the summer of 2016. As the owner of Breakout Running, Chris provides personal coaching to clients of all abilities and ages. In addition, he is a high school track and cross-country coach in the Fairfax County school system. At Centerville HS and JEB Stuart HS, Chris has guided runners to state final qualifications and All-Met honors. In the fall of 2016, Chris will be serving as the head cross-country coach at Robert E. Lee HS in Springfield, VA. Past coaching work has included the Run Club at Life Time Fitness in Centreville, VA and the fall marathon training program for Team in Training, athletic fundraising arm of the Leukemia & Lymphoma Society. Chris also works as an independent consultant in Federal contracting sector, helping client firms position for and win government contracts, enjoys spending time with his wife Lynn, and closely follows DC United soccer, Philadelphia Phillies baseball, and Saint Joseph's University basketball.
Eunja Rau, Secretary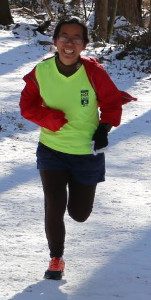 Eunja ran her first 5K in 2012 after finishing DCRRC's first Running and Reading program at Cherrydale Library. As a newbie, the elation she felt after the first 5K was so unexpected but huge that she decided to continue to run. She kept signing up for longer races including our very own Snowball Series races to commit herself to training. She then joined the DCRRC's marathon training program in 2014 to run her first marathon hoping to find other runners who are willing to run as slow (compared to SLR runners) and as long as she would like. She has run three marathons so far and just got her PR and JQ (Jeju Island Mandarin International Marathon qualifier) in the New Jersey Marathon in May 2016. Besides running, she also enjoys reading books on running and history.
Ben Richter, Treasurer
Ben started running winter track in high school as a way to avoid wrestling class, and has been on the roads ever since.
He has completed over 50 marathons, including Boston, Honolulu, New York City, Marine Corps, Kilauea Volcano Trails, Big Sur and Austin.
Shortly after moving to D.C. in autumn 1999, he began regular participation in the Saturday Long Run and credits it for getting him to Boston.
Ben has directed the Larry Noel Greenbelt 15K Race since 2005 and has been a sub-group coach with the club's Marathon Training Program for several years.
Dylan Barlett, Webmaster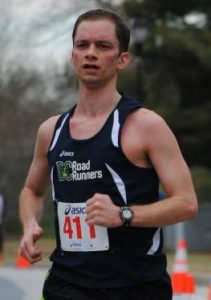 Dylan joined DCRRC in 2008 after graduating from Lehigh University, where he helped start a running club and raced frequently from 5K to half-marathon. In 2010, he gave in to peer pressure and moved up to the marathon. He is a regular at track, SLR, and Bunion Derby races.
When not running, Dylan works as an IT consultant in Arlington.
Miguel Cuya, Director for Race Operations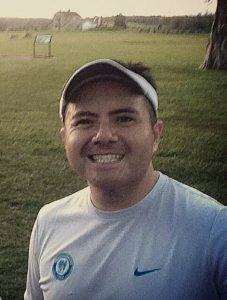 Miguel joined DC Road Runners in 2009 after completing his first marathon. Since then, he's completed many marathons, triathlons, and ultras. He's been a regular at SLR (Saturday Long Run) and club races for most of his time with the club. He started helping at club races a few years ago and was later asked to be race director of the Bluemont 5K. For the last four years, he has also been one of the co-directors for the National Capital 20 Miler and 5 Miler. Miguel joined the board in 2015 as an "At-large" member and looks forward to being more involved as Director of Race Operations.
When he is not running, biking, swimming or working as a Probation Officer, he likes to volunteer his time to worthy causes. You can also find him at some park playing his second favorite sport – volleyball (who knew?) or at Nationals Park – Go Nats!
Brian Danza, Director of Contract Races
Kathy Pugh, Director for Training Programs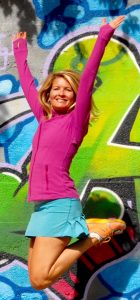 Kathy first joined DCRR as a trainee for the marathon training program during the winter of Snowmageddon. She loved it so much that she kept coming back both as a trainee and coach. Kathy wasn't always a runner, in fact she hated it! It wasn't until the birth of her daughter 12 years ago when she found herself overweight and deep in baby blues that she took up running and signed up for the Marine Corps Marathon. Postpartum hormones can make you do crazy things! At the time she was living in Las Vegas and found out just how much fun it is to train during the summer in the desert (it's like running inside a hairdryer). Kathy has written and performed her one woman show, Marathon Mama, a play about the whole crazy experience. Kathy now owns and operates More Than Miles, a women's running bootcamp on the National Mall and is also a holistic health coach. Prior to running and coaching she held a variety of positions that ranged from statistician for the federal government, financial analyst at a major casino/hotel, and marketing rep for a boutique wine distributor. When she is not running, Kathy can be found volunteering as a docent at the Folger Shakespeare Library, soaking up theater culture, and hanging out with her husband, Drew, daughter, Ava and their cool cat, Vegas on Capitol Hill.
Mike Tosto, Director for Training Initiatives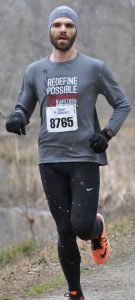 Mike ran his first few 5Ks at 10 years old with his dad, but didn't pick up the running bug again until grad school. After running the 2008 Marine Corps Marathon based on solo training, Mike joined DC Road Runners in 2011 for some company on long runs while training for his second marathon. He enjoys the club's weekly track workouts, tempo runs, and long runs, and is currently the Saturday Long Run (SLR) leader.
Mike is a lifelong Virginian, from Charlottesville, to Newport News, to Arlington, to Springfield. His favorite annual race is the Charlottesville Ten Miler, and he's looking forward to focusing on a half-marathon rather than a full in 2016, hopefully followed by the Boston Marathon in 2017. Mike works as a mechanical engineer on design and analysis of aerospace structures.
Kate Magee, Director for Community Outreach
Alison Smith, Director for Membership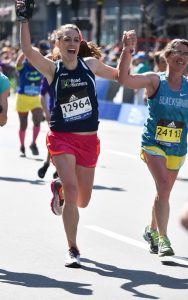 Alison joined the club in 2012 while training for her first marathon. She ran track and cross country through high school with a brief stint on the WM track team. When she isn't trying to recover from her latest injury, Alison's a regular at SLR, track, and can sometimes be spotted at HPT.
When she's not running or working as a software engineer, she loves watching football (go Hokies! go Panthers!) and listening to live music.
Bas Auer, Volunteer Coordinator