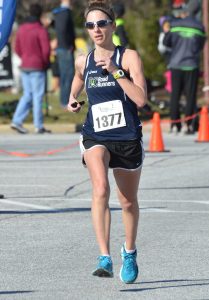 When did you begin running and why?
I began running in high school because all of my friends were doing it! I started formally with track freshman year, and ran cross country (my favorite) and indoor eventually as well. I used to run road races (5k/10k) on the weekends in the off-seasons, which was relatively rare for high school-aged runners to do back then. I was also influenced by my dad, who had run in high school and has kept in shape playing various sports (some competitively) throughout his life. We used to run the Fairhaven Father's Day 10k together, which had a father-daughter team competition. Growing up in Massachusetts, I distinctly remember hoping to someday be able to qualify for and run the Boston Marathon, so the rich running history in the area was also a factor.
How did you find out about DCRR and when did you join?
I moved to the DC area in 2002 to start grad school at GWU, and when I moved I was on a mission to start running again regularly. The year prior I was in a car accident and broke my femur. I had to have surgery to insert a metal rod and some screws in to repair it, and it took a long time to be able to walk without a limp again. The next step was, of course, running again, which I was doing by the time I got to DC, but not regularly. So I searched online, and found the Tidal Basin 3k races that Jay Wind used to hold on Wednesdays at noon. Being a student, I had a flexible schedule and could make those races, so I ran a few of those and eventually met DCRRC member RB Brill, who encouraged me to join and attend a track workout. DCCRC turned out not only to be a great way to get running regularly again, but to meet a great group of friends in a new city.
What are you training for right now?
Right now, oddly enough, I'm not training for anything! I just finished up training for the Shamrock Marathon in Virginia Beach, and I will begin training for a fall marathon (to be determined) again in June.
What is the toughest run or race you've ever participated in?
My response to this question might be colored by the fact that this race is so recent, but I am going to have to say Shamrock 2016. A nor'easter came through on race day and generated sustained 20+mph winds that we had to run straight into for about 10-12 miles of the race. It was like running into a wall on the boardwalk next to the water. Being stubborn (as runners sometimes are) I refused to change my goal pace to accommodate this variable, and paid for it late in the race when I realized just how much energy it took to maintain through the wind. I've certainly suffered in other races that were hot or where I was tired or injured, but this race was particularly disappointing. A local news report on the race confirmed: "Conditions couldn't have been worse for the runners and the watchers and the crews and everybody else braving the elements on this Shamrock Sunday. The luck of the Irish definitely didn't hold up weather-wise this year…And on this cold and wet and windy Sunday even race organizers said it was the worst weather ever."
What's your favorite part about being a DCRR member?
Hands-down my favorite part about being a DCRRC member is the amazing people I have met through participating in Club events and workouts. Some of my best friends are DCRRC members, and DCRRC workouts and events are excuses for us all to get together. Running is so much easier when you can share it with friends!
What's your favorite route in the area?
My favorite route is along Nelly Custis and Military Road, so in SLR terms, either the Marymount Chain Bridge loop or the shorter Chain Bridge loop. The route has lots of hills on the way out and then returns on the C&O canal for some easy flat miles. I do the shorter version regularly during marathon training, and I never get tired of it!
What's the most important lesson running has taught you?
Running has taught me how important it is to be patient and persistent. I can't say I am always able to be patient, but I know that if I am, it will pay off in a race, a workout, or in life.
What race day traditions do you have?
I don't really have any traditions besides waking up multiple times during the night to hydrate and waking up early to eat. But that's probably more neurosis than tradition 😉
What's your proudest running moment?
I guess I'd have to say this one cross country race as a high-school senior. It was a dual meet on our home course against our rival, Dennis-Yarmouth. Shortly after we got into the woods, two D-Y girls got together to block the narrow path. Eventually I weaseled my way through and one of the girls actually spit on me as I passed! Instead of getting mad and spouting some choice words (as I would be more likely to do nowadays), I simply picked up the pace in anticipation of what I knew was coming: a steep uphill out by the cranberry bogs (yes, I grew up in Massachusetts). They stayed with me until this hill, and I ended up winning the race by the skin of my teeth, but I was proud of the strategy and the race itself. A close second is Chicago 2009 where I battled thoughts of dropping out due to IT band pain to end up running my PR marathon.
What's your life like outside of running?
Outside of running, I'm a scientist focused on forensic DNA research. I have a fantastic supportive husband who doesn't run but puts up with a lot of running-related activities. We have two insane puppies (now two years old) named Edith (pug) and Shandy (golden retriever). Last year, we moved into a new house in Potomac, MD together, and so most of my spare time is invested in various home improvement projects. It's all super-fun but almost as time-consuming as running!
What is one thing you wouldn't run without?
Motivation. If I'm truly dreading the act of going out for a run for some reason, then I recognize I might need a mental or physical day off and I take it. This usually only happens at the peak of marathon training when I am running too much, or when things get really hectic in my personal life. Other than that, I can (even if I don't want to) run without many things, as my running partners who have had to lend me things would attest. I often forget things like my shoes or my watch but still find a way to run!