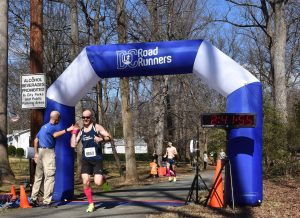 When did you begin running and why?
As someone always into fitness I would run two or three times per week just to augment my weight training, soccer, and mountain biking for most of my 20s. I didn't run far, maybe 3-4 miles each time. As a competitive person I finally decided I needed something I could compete in. So one day I measured a 5K route in my neighborhood and blasted it as fast as I could. I remember almost puking at the end but ran a respectable time around 21:30. From there I decided to train a little more seriously, 20 or so miles per week, and ran a 19:59 in my first real 5K race three months later. Anything worth doing is worth overdoing so that's the way it went from there and no PR is ever good enough.
How did you find out about DCRRC and when did you join?
I showed up to the Paul Thurston Burke 4.5 miler in 2014. The people were great, the race was a blast, and I just got a really good vibe. I think this was this race when I met Rich for the first time; so positive and encouraging even to new faces. I run alone most of the time but decided to join in 2015 and participate in some more races.
What are you training for right now?
Boston! And not just the marathon. I have decided I like doing the Boston double. The BAA 5k on Saturday and marathon on Monday. I plan to race both all out, of course, and hopefully grab a double PR weekend again. Training hasn't been going as well as previous Boston cycles but I plan to push hard anyway.
What is the toughest run or race you've ever participated in?
My first marathon was probably my toughest race. I was overconfident and stubborn on my sub 3 hour goal (shocker). It was warm and humid but I went for it anyway. I held on to sub-3 pace for about 20 miles. Those last 6 were absolutely horrible. It was almost 80 degrees when I crossed the finish in 3:21 and I just wanted to never run another marathon ever again.
What's your favorite part about being a DCRRC member?
The people. I have met and shared this awesome sport with so many people that I never would have met without DCRRC.
What's the most important lesson running has taught you?
Facing every day annoying or difficult tasks are not that tough compared to a hard workout or a hard marathon cycle. Also that health, and the ability to run, is not something that should be taken for granted.
What's your favorite route in the area?
I can't say I have a favorite route. With limited time I usually end up running wherever is most convenient. But I love running in new places whenever I can.
What race day traditions do you have?
I don't really have any. Should I have some? I eat toast most of the time. I always get nervous. Is that a tradition?
What's your proudest running moment?
Last year at Boston, turning that final corner onto Boylston street. I had run a smart race in the warm conditions, felt strong, and was passing tons of great runners crushed by the temperatures. My entire family, including my little baby and other two kids, were there on Boylston. I ran over to them for a quick hug and kiss before the sprint to the line where I grabbed a new marathon PR, just two days after a new 5K PR. It was one of the most satisfying times of my life.
What's your life like outside of running?
I work, I run, I cross train, and I spend time with my family. There isn't much time for anything else. When time can be found I enjoy anything outdoors including camping, hiking, snowboarding, and biking. I try not to drink too much beer or eat too many cookies. I have an amazing wife who supports my obsession(s) and I love my (pain in the neck) kids more than anything.
What is one thing you wouldn't run without?
My gadgets. I must have my GPS and my heart rate monitor. I obsess over metrics. Sometimes I will run without the heart rate monitor and it feels weird not knowing how hard I am really working. It's easy to overrun a workout or slack off without the monitor.