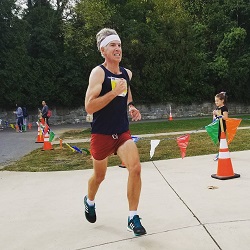 When did you begin running and why?
In a serious way? I began running on a treadmill to lose weight in June 2011. I'd gotten up to 195 lbs, which was 20 lbs more than I weighed at the end of college and I wanted to get back down below 180 so the BMI index would not classify me as overweight.
How did you find out about DCRRC and when did you join?
My first DCRRC race was the Gar Williams Half Marathon in December 2012, which I ran in 1:41:50. My neighbor and friend Kenny Ames told me about the $5 races, the price at that time, and I couldn't believe it! What a bargain! I joined soon thereafter. I owe Kenny a shout-out for encouraging me to get off the treadmill and race, otherwise I might still be down in the gym by myself.
What are you training for right now?
Rock 'n Roll DC Marathon on March 10
What is the toughest run or race you've ever participated in?
The 2016 Marine Corps Marathon. After getting my weight down to 165 lbs in 2013, I'd allowed it to rise again to about 175. On a warm day (mid-60s and sunny), I paid the price, hitting the wall at mile 18 and finishing in 4:01:18.
What's your favorite part about being a DCRRC member?
Still the bargain races, but also following club members (and competing with them) on Strava.
What's the most important lesson running has taught you?
More breakthroughs are possible. I thought I'd plateaued as a runner entering 2017. I never dreamed I could run a Boston qualifier after my 2016 Marine Corps performance. It was so unrealistic that it was not even a goal of mine. But less than a year later, at age 43, I ran a 3:08:19 at Freedom's Run in West Virginia, finishing 5th overall and winning the state masters RRCA championship. That's a BQ by 6:41. What was the key? Running at my ideal weight of approximately 155 lbs, run commuting with a backpack, to and from, rain or shine, and doubling my previous weekly mileage.
What is your favorite route in the area?
I'm blessed to live near the confluence of the Northwest Branch Trail, the Northeast Branch Trail and the Anacostia River Trail. The latter two are my favorites. The Northeast Branch takes you up to Lake Artemesia. The Anacostia River Trail goes by Kenilworth Aquatic Gardens and they are both blissfully car-free.
What race day traditions do you have?
I rise at least three hours before the gun, drink a cup of coffee, eat an easy-to-digest breakfast, put on whatever the Runner's World what-to-wear guide instructs, and get to the course in time to run a good warm up.
What's your proudest running moment?
My 2017! I started the year with a badly sprained foot and wasn't doing much running, but by year's end I'd set PRs in the 5k, 10k, 10 mile, half marathon and full marathon. I won a race outright (the Hyattsville Zombie Run 5k in 18:55!) and the master's division in four others (the Father's Day 8k, Hingham, Mass., 4th of July Road Race;  Freedom's Run, and the YMCA Camp Letts Turkey Trot). My most recent DCRRC race was Gar Williams, where I finished in 1:23:10, 18:40 minutes faster than I had five years before, in my first DCRRC race. That qualifies for the New York Marathon.
What's your life like outside of running?
I'd make it to more DCRRC races but I'm spending time with my wife and two kids, ages 9 and 6, or taking the kids to their weekend activities! I'm also deputy editor of CQ Magazine.
What is one thing you wouldn't run without?
My headband. Sweat in my eyes ruins a good run.