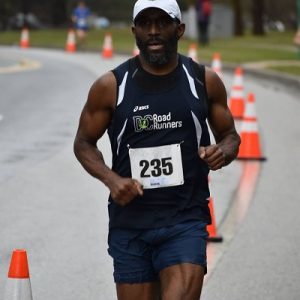 When did you begin running and why?
Ran high school track and cross country. After college, my old roommate decided to run the NYC Marathon and needed company, so I agreed. Thus began my marathon career.
How did you find out about DCRRC and when did you join?
While preparing for my 40th Birthday, I decided to run a race and have my family and friends join me. I found the JFK/MLK races and decided to do both. A little while later my friend/co-worker joined and convinced me to join after nagging me for a bit.
What are you training for right now?
Nothing specific. Hoping to find a good Boston qualifier in the spring. Will do the snowball series to get back in shape.
What is the toughest run or race you've ever participated in?
2018 Boston Marathon – hands down! My only DNF after about 35 marathons. Too painful a memory to recap here.
What's your favorite part about being a DCRRC member?
The cozy yet competitive community of runners. The environment is very conducive to personal improvement.
What's the most important lesson running has taught you?
A simple classic is Run Your Own Race! But a more unique one is figure yourself out. We're all different and therefore have our own unique rules. The cliches aren't always correct. Don't be afraid to experiment.
What is your favorite route in the area?
The W&OD Trail. The Capital Crescent Trail would be second.
What race day traditions do you have?
No real traditions, just like to arrive early and get settled. I've learned to warm up as needed.
What's your proudest running moment?
There are 3 that distinctly stand out:
2010 MCM – Shaving 6 minutes off of my 1st BQ and PR at Steamtown after a 3 week recovery.
2013 Boston – Following a 3:04 run 2 days earlier with a completely unexpected 3:03.
2016 Stennis Space Center Marathon (MS) – Very hard to beat a marathon WIN and massive PR (2:53) which still stands to date. Hoping to change that soon! This also capped a year that I went sub-3 for the first time. Liked it so much I did it 4 times!
What's your life like outside of running?
Beautiful wife and 3 kids, devout Christian and an Engineering Manager. I can't complain one bit!