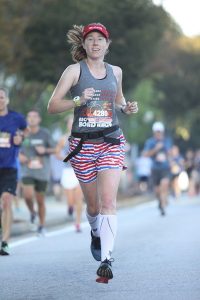 When did you begin running and why?
When I started a new school in 9th grade, my older brother convinced me to join the cross country team to meet people. For me, running has always been more about the camaraderie than the competition.
How did you find out about DCRRC and when did you join?
My husband, Steve, and I moved to the DMV last summer (2018) from Atlanta and were training for the Savannah Rock 'n' Roll marathon in November. We happened upon the DCRR National Capital 20 Miler, which fit into our training plans perfectly. We joined the club for the member discount on the 20 Miler and were hooked after our first SLR.
What is the toughest run or race you've ever participated in?
The Virginia Beach Shamrock Marathon on St. Patrick's Day just a few weeks ago was a very humbling experience. I caught the flu a week beforehand but assumed I was "good enough" to run by Sunday morning. I hoped my adrenaline and the race day excitement would kick in and overcome my lack of energy and cough, but it never did. While I didn't come close to setting the PR I'd been hoping for, I'm proud I finished, even if I walked most of the race. I wouldn't try that again.
What's your favorite part about being a DCRRC member?
I've really enjoyed volunteering at races. I ran dozens of races before joining DCRRC and never thought to sign up as a volunteer. It's been a great way to get to know other members.
What's the most important lesson running has taught you?
For my first big marathon about a year ago, I trained with a good friend in Atlanta. On our first 20 mile training run, everything that could go wrong did: I tripped about 4 miles in on a metal wire, and then it started pouring halfway through. I don't just mean some light misting; it was a downpour. We were sloshing through puddles, and I had blood streaming down my knees and elbow. That run made me realize how determined and stubborn I can be.
What is your favorite route in the area?
My go-to runs are along the Potomac, preferably at sunrise or sunset.
What race day traditions do you have?
My traditions focus on food. I eat a slice of toast with peanut butter and banana, and I have a cup of coffee. However, the most important part of my pre-race routine is planning my post-run breakfast.
What's your life like outside of running?
Steve and I enjoy pretty much anything outdoors: hiking, ultimate frisbee, golf, and exploring the city. I've hiked about 90% of the Appalachian Trail and hope to finish within the next few years. Professionally, I work for the US Department of the Treasury.