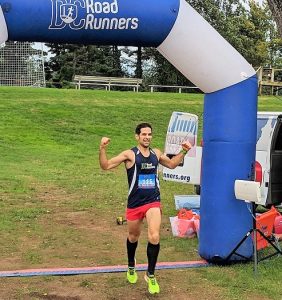 When did you begin running and why?
I used to be a fairly sedentary person, with not particularly good eating habits, which after the years made me realize that I was overweight. In November of 2013, I moved to the United States, got married, joined a gym, and started running on a treadmill to lose weight. After a while running on the treadmill, I realized that real runners run out on the street. At the time, I didn't like running at all, but I started running with Christie, my wife. That started what later became part of my life, seeking to improve times and maintain a healthy lifestyle. We ran our first half in 2014 and afterward decided to run the full marathon the next year. That was the start of our marathon fever!
How did you find out about DCRRC and when did you join?
My wife and I used to do the long runs alone and I thought it would be great to find more people to run with, so we found out about DCRRC and we decided to join at the end of December 2016. With all the group workouts, great coaches and club races, DCRRC seemed like the obvious choice!
What are you training for right now?
After a year of PRs in all distances, right now I'm training for Boston marathon. I have the ambitious goal of qualifying for New York marathon. The Snowball Series races are also smaller goals that serve as good workouts for my "A" races.
What is the toughest run or race you've ever participated in?
Long distance races are, in general, very tough. I could say the 50K North Face Endurance Challenge was really tough, but I think that regardless of the distance or elevation, a race becomes more or less hard depending on the effort you put into it. With that in mind, I would say that the races that were toughest to me, were a few races where I pushed my limits.
What's your favorite part about being a DCRRC member?
DCRRC has some awesome people and I found some good friends with similar interests with whom I've been able to share training, conversations, and even improve my English (which wasn't very good when I first arrived here). I definitely love the DC area running community.
When I joined the club, I met other people who are much faster than me and I told myself I wanted to improve to be like them, so they inspired me to keep improving and chasing more ambitious goals. Along the way, running with other friends in the club made me more competitive, and really helped me improve.
What's the most important lesson running has taught you?
I learned that it doesn't matter how fast you are, but that the dedication and effort you put into it is what makes you better runner! Running has given me a positive attitude and taught me about perseverance.
What is your favorite route in the area?
One thing I would miss so badly if I moved would be all the fantastic trails and routes in the area.
Even the worst route can become great with good company. I am definitely a road runner, or at least for racing, but I found some cool trails which are great for training. One of them I recently discovered is the Pimmit Run trail, which is very scenic.
What race day traditions do you have?
I have so many! Mostly, I try to take care of my race nutrition as much as I can. I always stick with the same breakfast smoothie, gels and recovery stuff. One of my favorites is to have beet juice before a race.
What's your proudest running moment?
After every PR, I feel immensely proud to see that all the effort and sacrifice paid off. My proudest moment was probably the day I broke the 3-hour mark in my 10th marathon and 5th Rock 'n' Roll DC race. It also allowed me to qualify for Boston by 7 minutes! I always thought beating 3 hours would be my biggest and last goal as a runner and that I would be satisfied. However, since it happened, I didn't want to stop training and setting more ambitious goals.
What's your life like outside of running?
In my free time, I like to bike and swim with my wife because we do a few triathlons each year. It is also good cross-training and keeps us in shape which is something I love. I also like to hang out with friends, try new restaurants, go hiking and play with our dog, Django.
What is one thing you wouldn't run without?
Strava! Yes, I would prefer to run barefoot than run without my watch. If it is not on Strava, it didn't happen.