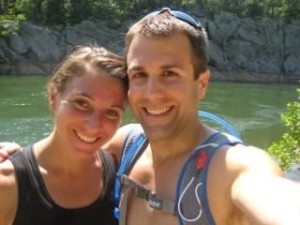 When did you begin running and why?
We both started running in high school for general fitness, as a supplement our respective team sports.
How did you two meet?
We met at a German polka bar in Minneapolis, Minnesota. That night, Pete knelt down on one knee for a facetious proposal after a brief conversation during which we identified eerily similar interests.
What's your favorite part about being a DCRR member?
We cherish the friendships that we have made and the camaraderie at track workouts, Saturday long runs, club races, and happy hours.
What have you learned from being in the club?
We have learned the value of training smarter (e.g., incorporating interval training, slower long runs, tempo runs, and recovery days).
Do you run together often?
We are expecting our first baby (a boy) in June, so Robyn isn't running as fast or far as before. We still try to get out a couple of mornings each week together, accompanied by our eight-pound dog, Humphrey. Having somebody to run with is good motivation to get out there, especially on dark chilly mornings.
What is your favorite route in DC?
We both like routes that incorporate the off-road trails in Georgetown.
What mile of the marathon do you find most challenging? Easiest?
For Pete, everything after mile 18 is challenging. After every marathon, Robyn vows never to run another (so all miles are challenging for her).
What has running done for your relationship?
Running has been a central part of our lives together since we met. Running makes us both happier and kinder to each other. When we're visiting our family or hosting guests, running is our private time together. We often use races as the reason for a much-needed escape from the city. Running is the activity in which we most potently witness each other overcome adversity. While running is special to us as individuals and as a couple, it is also something that we love sharing with our friends and family.
Do you run many races together?
We always start races together…
What's your proudest race moment?
Our proudest race moment to date was Robyn finishing the 2012 Marine Corps marathon while 9 weeks pregnant and in the midst of horrible morning sickness… just so it would be our son's first marathon.
What's your life like outside of running?
We like to take our pup for walks around the neighborhood, spend time with family and friends and make trips to Minnesota (preferably not in the winter). Robyn plays soccer and Pete has gotten into triathlons.
What's the most valuable tip you have for beginning runners?
One step at a time. Do it in a way that is enjoyable for you. Every day that you get out there and run should be seen as a success– no matter how fast or far you go.
What is one thing you wouldn't run without?
We've both been running in Asics 2XX0 series shoes for years and aren't inclined to change.