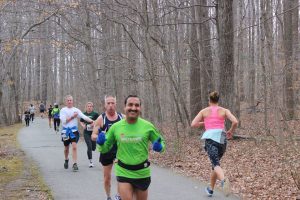 When did you begin running and why?
I began running in high school. I was part of a team sport, but the team rebelled with school management and did not participate in the tournament. So I ended up participating in track & field events that year and won a 3K race.
How did you find out about DCRR and when did you join?
My first race with DCRRC was the Alexandria turkey trot in 2004. I joined the club in 2010 to run all of the free races!
What are you training for right now?
In recent years I have not followed any training plans, I just run races. Short distance races work as training runs for marathons. My next race is the Sugarloaf Marathon in Maine on May 15, 2016.
What is the toughest run or race you've ever participated in?
I have completed 65 marathons/ultras. The longest distance I have done is 76 miles in 20 hours (during the Philly 24). The Skyline challenge 50K was the toughest race due to rough weather and very technical terrain.
What's your favorite part about being a DCRR member?
My favorite part is the camaraderie of fellow runners, volunteering. I also enjoy cheering runners in club races.
What's your favorite route in the area?
I love trying new trails and I really like the W&OD, C&O Canal, Mt Vernon, and FCC trails.
What's the most important lesson running has taught you?
Life can be very long when running ultra races, which has taught me about Taking responsibility and to Live in The Moment!
What race day traditions do you have?
I'm thankful to be at start line and pray.
What's your proudest running moment?
Winning a 10K race in college. I got cheated by a lap in the 5K and placed 2nd. I told my friends to show-up to make sure it was fair competition. The next day I won the 10K beating the 2nd place guy by 2 laps!!
What's your life like outside of running?
My family & non-running friends think running is my life! Being the VP of Races will add more fun to it. I am an IT Consultant, love traveling, outdoors, yoga, and working on house projects.
What is one thing you wouldn't run without?
Running Shorts! There are bunch of clothing-optional races…