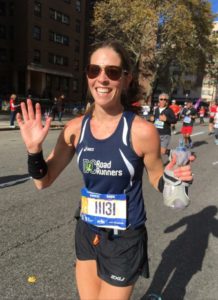 When did you begin running and why?
I started running just before starting Junior High School. My older brother was running track and cross country and I wanted to follow in his footsteps.
How did you find out about DCRR and when did you join?
I researched DCRR when my husband Zach and I moved to the area in 2014; however, I didn't officially join until about a year ago. I do regret not getting involved sooner.
What are you training for right now?
I'm not training for any big races at the moment. I'm pregnant with my first child due near the end of May. So I'm training to stay as fit as possible and to have a healthy pregnancy.
What is the toughest run or race you've ever participated in?
Every race is tough in its own right, but I'd say running The NYC Marathon this past November while being 11 weeks pregnant was a tough and humbling experience.
What's your favorite part about being a DCRR member?
Hands down I love being part of a running community. Runners are my people. I think runners just get one another. I also really enjoyed leading yoga classes to DCRR members this past fall.
What's the most important lesson running has taught you?
Just like running, some days a great and other days are more challenging.
What's your favorite route in the area?
Running around the monuments just as the sun is rising.
What race day traditions do you have?
The day before a big race I enjoy having a glass or two of wine with dinner. Besides being delicious, it helps calm my nerves.
What's your proudest running moment?
Qualifying for Boston with a huge marathon PR at the 2010 Columbus Marathon and winning the Ann Arbor Marathon in 2014.
What's your life like outside of running?
Life is good. Outside of running my husband Zach and I enjoy traveling and visiting wineries. We are also excited about the arrival of our first child. We cannot wait to cart the little one around on all our adventures including DCRR races and events.
What is one thing you wouldn't run without?
Two things. My 2XU compression socks (shameless plug for my husband's company) and my DCRR running hat (If you haven't gotten yours, please contact Rich).