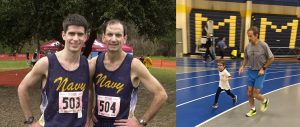 When did you begin running and why?
I was on the lightweight crew team at the Naval Academy. We ran stadium steps in the winter time but that was the extent of my running in college. I love ice cream and submarines have soft ice cream machines that run about 20 hrs a day. On my first submarine I put on 15 pounds over 3 years due to good food, ice cream and the inability to get much exercise. I then went to grad school in Monterey, CA and started running so my pants would fit better. A classmate mentioned he was training for the Salinas Valley marathon. I grew up in Yonkers, NY and remember the former AAU marathons running down Broadway, so I thought I'd give the marathon a try. Prior to my first marathon I'd only ever run two 10ks and I was training at about 40 miles/week. This was 1979, I ran in the original Nike waffle trainer and the training philosophy advocated by Runners' World at that time was long-slow distance. My goal was to finish, my secret goal was to break 3 hrs. I finished 12th overall in 2:57. I've been running ever since.
How did you find out about DCRRC and when did you join?
Serving in the Navy we moved 19 times, including moving in and out of Washington five times. I really don't remember when I joined DCRRC but I do seem to recall that DCRRC ran the Nike Cherry Blossom 10 miler, the race field was about 1000 people and it was free!
What are you training for right now?
My next big race is the GarWilliams half marathon. I prefer running 5K road races and the mile at track meets but since the focus of the Thursday morning track group is distance running I want to put my training to good use before winter. After that my focus will shift to the indoor track season culminating with the US Masters' Indoor National championships in March, where I'll run the mile and 3k. This year they're being held in Landover, MD.
What's your favorite part about being a DCRRC member?
My favorite part of being a DCRRC member is the mutual support we get running with people we know. Running is a rather lonely sport as we put in mile after mile. It's nice to run with friends at the Thursday morning track workouts, trade running and racing results, and see them again at our club races or cross paths with them out running. I'm a better runner because of the people I run with.
What's the most important lesson running has taught you?
You're only as good as you train. After I turned 50 I had too much going on in my life to train. Every time I ran a race I got discouraged because my times were getting slower. So I just ran for relaxation, rarely raced, and continued to get even slower. It was a downward spiral of discouragement. Something clicked about the time I turned 60. I started training again, regained my confidence in racing and my times started coming down. I'll never set a PR again but I'm having fun trying to slow the aging process!
What is your favorite route in the area?
My favorite distance running venue is the C&O canal. I live in North Arlington. On a typical Sunday morning I run down the I-66 bike path to Rosslyn, across Key Bridge, north on the C&O canal, across Chain Bridge and back home. It's a scenic 8 mile loop. My favorite race course is Hains Point: flat and fast if there's no wind.
What's your proudest running moment?
My proudest running moment was watching our son compete in the 1500m finals at the 2000 US Olympic Trials. He ran a sub 4 min mile to qualify for the trials and missed going to the Olympics by about 3 sec. My second proudest moment was running in the Mobil Invitational track meet at George Mason in 1997. They used to invite the fastest local master runners for a master's heat with invited guests. That year the guest runners were Frank Shorter and Bill Rodgers. It was humbling to toe the line with celebrities. When I ran Boston in 1981 Bill Rodgers was at the finish line while I was on Heartbreak Hill! Now we were running shoulder to shoulder on the track. I set my PR in the mile that day: 4:39. I was 46. I hope that serves as encouragement to a lot of our younger DCRRC runners!
What's your life like outside of running?
Outside of running, after 30 years in the Navy I now work for the Department of Homeland Security. My wife and I love to travel and are always planning our next trip. We have 3 married children and 4 grandchildren who live in northern Virginia. I take the oldest (6 years old) to the track periodically to get him started early!!!
What is one thing you wouldn't run without?
My Garmin. Two years ago our kids gave me a Garmin Forerunner 220 for Christmas. Now I never run without it.