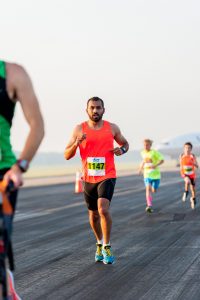 When did you begin running and why?
I started running in high school, my brother in law used to run and he encouraged my sister and I to join the cross country team. During college I wrestled, we ran for conditioning, and I definitely did not enjoy it as much. A few years later, I heard about a corporate challenge that our office would participate in and I figured I would give it a shot. After not running for years, that first race was a struggle, but it got me back into running and I've been consistently running since then. I've been running that corporate race since 2008.
How did you find out about DCRRC and when did you join?
I found out about DCRRC while looking for races to do in the summer of 2014. I decided to do my own "30 for 30" that year, with the goal of running 30 races during the year I turned 30. I was trying to find some races to fill out my calendar and came across the Bunion Derby series.
What are you training for right now?
At the moment, I'm training for the Marine Corps Marathon.
What is the toughest run or race you've ever participated in?
The toughest run was a long run while training for my first marathon, and I was not particularly following any training plan. I just would decide what I thought I needed to do and would go out and do the runs. At some point I decided that I needed to do my first long run and decided to do 20 miles. Everything was fine at first, so I started to get ambitious. I decided to go for 22 miles and kept going. Around mile 15 everything started to fall apart. I struggled for a few more miles and by mile 18, I just completely blew up. I had to walk to the nearest metro stop to take the train home. It's safe to say that run made me learn my lesson about having a plan for race training.
What's your favorite part about being a DCRR member?
By far, my favorite thing is the people I've met in the club. I've made lots of friends and it's great to have group of peers that I can run with. I'm a regular at SLR (which was a struggle at first, waking up early in the morning is not something that comes easily to me) and it is always nice to have a group that pushes you to run faster.
What's your favorite route in the area?
My favorite route is the area is the Potomac Heritage Trail portion in Great Falls, Virginia. The trail offers a great view of the Potomac, and has some great terrain to keep you on your toes.
What's the most important lesson running has taught you?
I think running has taught me how there is always more to push for. I find that as I meet my goals in running and in life, I am never content. I immediately focus on the next goal and strive to do better.
What race day traditions do you have?
Before my races I like to have some oatmeal or a bagel and a few sips of coffee. I like to get to the race early and make sure I get a good warm up.
What's your proudest running moment?
My proudest moment was last year when I won my first road race. I've finished 2nd in a handful of races and was frustrated that I could not seem to close out a race. When I was able to win the race it was definitely a proud moment, plus it was also pretty awesome that it happened on my birthday.
What's your life like outside of running?
I work as a Systems Engineer for a government contractor. Outside of running I like to stay pretty active with Brazilian Jiu Jitsu, riding my bike, kayaking/paddle boarding, hiking, snowboarding, and learning to play the guitar (it's been a work in progress for 10 years and I just refuse to give up).
What is one thing you wouldn't run without?
As much as I hate to admit it, it probably would be my GPS watch. I definitely do not feel the same when I run without it. It's almost like a run without my watch does not count. I like the fact that it logs my runs and that I can see stats about my run at any time.