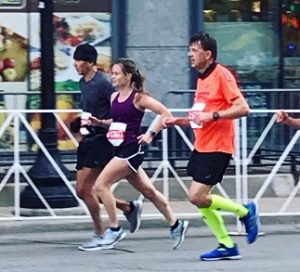 When did you begin running and why?
I began running sophomore year of high school so I could hang out with friends. I continued running through college and have made some of my best friends through running. For me, it is all about the people and the comraderie of running that keeps me motivated.
How did you find out about DCRRC and when did you join?
I found out about DCRRC when I moved to Virginia and was looking to begin training for my first marathon in spring of 2017. I joined the marathon training program and ran the Marine Corp Marathon that fall.
What are you training for right now?
Right now, I am training for the DC Rock and Roll Marathon, it will be my first spring marathon!
What is the toughest run or race you've ever participated in?
The toughest race I have ever run in was probably the Chicago Marathon this past fall. The conditions and atmosphere were perfect, but what made it difficult was I pushed myself the hardest I ever have. I PR-ed by about 15 minutes and it was definitely worth it.
What's your favorite part about being a DCRRC member?
My favorite part about being a DCRRC member is the community. The volunteers and members are so supportive and encouraging.
What's your life like outside of running?
Outside of running I enjoy cooking new recipes, spending time with friends, and checking out new coffee shops. For the past year I have also been increasing my weight training.