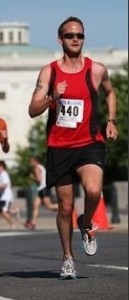 When did you begin running and why?
I began running at age 13 in order to lose weight. I was tired of being the fat kid. My buddy forced me to join track in 8th grade by forging my signature. Since then it has been up and down. Last place on the team as a freshman to school record holder as a junior to severe plantar fasciitis that ended my college walk-on attempt to knee surgery in 2009. I am now coming back.
What's your favorite part about being a DCRR member?
I really enjoy the free low key races – it reminds me of running back home. I wish I had a car to participate in more events!
What's your best running moment?
In 2003 I was a junior in high school. At one meet I seemed to transcend my pain threshold and a feeling of strength came over me and I held on in the 3200 meter run to record my best time ever: 9:52.
How long have you lived in the DC area?
I'm from a small town in Northwest Ohio and moved here after earning my master's degree in higher education and now work at George Washington University. I've been here for two years and have been back to consistent running for about a year.
What is your favorite route in DC?
I run variations of Rock Creek-Potomac Park-C&O Towpath. My favorite is a run from the National Zoo up through Beach Drive on the weekends when it is closed off to traffic.
What's your life like outside of running?
Besides work I read, play kickball, and socialize with friends on the weekends… I usually throw back a few beers.
Do you have a running motto/mantra? If so, what is it and why?
I don't really have a mantra but I like to tell myself "90%" when racing because my form, effort, etc. is more efficient relaxing at 90% than blasting at 100 over the long run.
What challenges/goals are you looking to achieve at the moment?
I am almost back into the shape I was in high school before I took several years off due to college and work and knee surgery. My next goal is to break my high school PR of 16:34. I think I'll be able to do that sometime this fall.
What is one thing you wouldn't run without?
I am a plain runner… no GPS, no fuel belts, no expensive moisture wicking fabrics, etc. I always use my Timex watch just to gauge my splits in a race or time on the run.
What's your least favorite thing about running?
Race entry fees…they are sky-rocketing. I would race a lot more if it didn't cost me $40 for my next 5k.