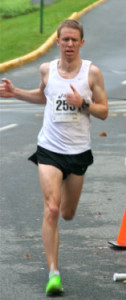 When did you begin running and why?
My background is in bicycle racing. I began running back in 1996 to cross train and stay in shape during the off seasons. In about 2009 or so, due to time constraints, I began to focus on running more competitively.
What's your favorite part about being a DCRR member?
Racing the Bunion Derby Series is my favorite part of being a DCRR member. In general, it allows me to compete with the same group of competitors week after week. It creates a great competitive atmosphere that allows me to gauge my fitness level.
What have you learned from being in the club?
I have learned that everyone has their good and bad days when it comes to training and racing. I've seen some of the best club runners have really good races and bad ones. It made me realize that having a bad race every now and then is OK.
What is your favorite route in DC?
I am from Alexandria, VA. My favorite route is simple. It is out and back south on the Mt. Vernon trail. There are some decent hills and plenty of runners to help motivate me.
What race day traditions do you have?
I don't really have a race day tradition. Sometime I will warm up for ½ mile before a 5K and other times I will run 5 miles. It all depends. Only must haves are my GPS watch and racing shoes.
What's your proudest race moment?
My proudest race moment(s) are when I out-sprinted a competitor in a race that came down to two finishers fighting for the win. Nothing beats that feeling when the finishing crowd is cheering and you deliver a win.
What's your life like outside of running?
I try to keep it simple. I work as an engineering and technology consultant, run and race to keep in shape and spend time with my fiancée.
Do you have a running motto/mantra? If so, what is it and why?
My motto/mantra is to strategically think long term. Rome wasn't built in a day. Steady progression and constant improvements in training pay off in the long run.
What's the most valuable tip you have for beginning runners?
My tip is to turn running/fitness into a lifestyle. Running needs to become more than just exercise. You need to run for reasons other than looking good or staying healthy. I recommend you do it for the competition, camaraderie or personal challenges.
What is one thing you wouldn't run without?
I always like having my GPS watch. Being an engineer, wanting numbers and constant feedback on status during training are in my nature. Any runs without a GPS watch feel odd.