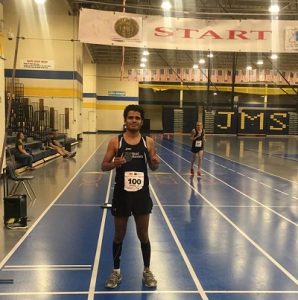 When did you begin running and why?
After I reached US in June 2014 to join my assignment at Embassy of India, Washington D.C., I saw people were running everywhere and throughout the day whenever they find some time. I was amazed by that. Somewhere in late 2014, doctor told me that my BP was high and also my weight. I was about 27 years old at that time. It stuck in my mind. I searched internet that how can I lose weight and found out that running is the best way to do that. I started with a half mile run somewhere in March/April 2015 and I was totally exhausted and couldn't take another step. But I didn't give up and keep showing up again and again. I used to have so much pain in my knees & ankles that many nights were sleepless. Slowly I started increasing distance to one mile than one and half and so on. By the August 2015 I was running 20-25 miles weekly with 5-6 runs. I also used to cycle in evenings for about 8-10 miles for 2-3 times in a week. And lunch walk daily on working days. So basically if you look back I was working out thrice a day. I ran my first self- timed trial Half-Marathon on September 2, 2015 evening which I completed in 2hr 3 minutes when I bought my first running shoes from Road Runner Sports. It was a virtual challenge race. I was disappointed that I couldn't break 2 hrs so I ran again next day and I think I finished in 1hr 53 minutes something. After completing virtual race, I started looking for a race where I can run with other people in person. I found out that there is a 8K in Kensington, MD, in September 2015 which is near to my house. I signed up for that and I finished Kensington 8K in 37:55 with 77th place finish. I was stoked after finishing that race. Signed up for another one next weekend and another one next weekend which is still going on. I ran my first half in October 2015 and first Full Marathon in November 2015 which was NCR Trail Marathon. From May 2015 to November 2015 I lost about 70+ lbs weight. In preparation to qualify for Boston Marathon I ran 90 miles a week which was amazing. So far I have completed 200+ races from September 2015.
How did you find out about DCRRC and when did you join?
I found about DCRRC in January 2016 when I was looking for local races nearby my house. I joined DCRRC on January 10, 2016 right after finishing Al-Lewis 10 Miler. As I found out that DCRRC have a series called "Snow Ball Series" for which you have to be a member to participate.
What are you training for right now?
I love races. I race almost every weekend. So there is always something on my calendar.
What is the toughest run or race you've ever participated in?
World Trail Championship 2018 in Spain where I represented India. It had about 16,000ft+ climb over 86 km.
What's your favorite part about being a DCRRC member?
DCRRC has some awesome people I have ever met. I have made many friends and also made so many memories which I won't forget my whole life. Snowball Series and Bunion Derby Series which provides so many races throughout the year.
What's the most important lesson running has taught you?
Keep trying and never give up. Running has given me a positive attitude.
What is your favorite route in the area?
Billy Goat Trail, C&O Canal Towpath, Potomac Heritage Trail and Cabin John Trail.
What race day traditions do you have?
I need caffeine and nice warm up.
What's your proudest running moment?
These are following:
Representing INDIA at World Trail Championship 2018 in Spain which was like a fairytale for a runner like me.
Winning my first ever Marathon at Grant-Pierce Indoor Marathon and setting new Asian Record and Indian National Record.
Qualifying and running Boston Marathon 2017
What's your life like outside of running?
I am a Diplomat at Embassy of India in Washington D.C. I have three kids who keeps me busy when I am not in the office and not running.
What is one thing you wouldn't run without?
Running shoes, running short and GPS watch.