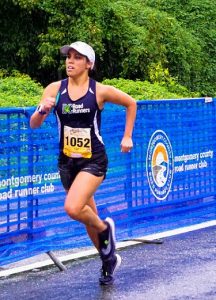 When did you begin running and why?
I started running in 2002 when my best friend asked my sister and I to join our high school cross-country team with her. I didn't even know what cross-country was, nor had I ever run more than one mile.I didn't run competitively in college, but I ran a few road races here and there. I recently got back into more consistent running when I decided I wanted to run a marathon before I turned 30. I ended up running 3 marathons before I turned 30.
How did you find out about DCRRC and when did you join?
I trained for my first marathon with my husband, and we did all our long runs together on the weekend. After the race, he retired from marathons, so I decided to look for new long run buddies. I googled "DC running clubs" and went to my first SLR in October 2016, two weeks after my first marathon. I have been an SLR regular since.
What are you training for right now?
My (semi-jokingly) "A" race every year is a Turkey Trot. I'm also running Richmond Marathon on November 10th.
What is the toughest run or race you've ever participated in?
While training for our first marathon in July 2016, my husband and I were scheduled to do a 16 mile long run. It happened to be the hottest and most humid day of the summer. We were planning on doing an out and back on the C&O Canal, and due to the weather we waited until evening to avoid some heat from the sun. We only made it 6 miles out and I thought I wasn't going to make it. I slogged, walked, and at one point even helplessly sat down in the middle of the trail. My husband had to keep encouraging me to go on. After turning around to head back, the sun was setting and it was getting dark quickly. Apparently this is also the time that the snakes and spiders come out onto the trail. As tired as I was, the darkness and the snakes we saw on the trail motivated me to get off that towpath and back home.
What's your favorite part about being a DCRRC member?
I love being surrounded by other hardworking and dedicated runners. One of my most memorable runs was a cold day in January. The club race got cancelled due to sub-zero temperatures, strong winds, and icy trails. Instead of going to the race, a bunch of people went to SLR instead. Our water bottles froze and I couldn't talk because my lips and face were numb, but having other people show up to run helped me justify that I wasn't crazy for being out there.
Everyone is so encouraging and inspiring. I get just as excited for my teammates accomplishments as I do for my own. I also enjoy having people to talk with about nerdy running things such as elite runners, Breaking 2, running goals, and fancy expensive running shoes.
What's the most important lesson running has taught you?
You know how they say to watch out for poison ivy if you ever go to the bathroom in the middle of the woods? Yeah, I once made a pit stop during a run and learned that one the hard way.
What is your favorite route in the area?
I always enjoy running on the Capital Crescent Trail. You see the coolest people there. To name a few: there's the guy blasting music on his bike with lighted wheels, the man dressed like Santa Claus, the unicycler, the elliptiGOers, and the guy dancing up and down the trail on roller blades.
What race day traditions do you have?
Besides setting out my clothes the night before, I don't really have any traditions. I am still working on figuring out my breakfast and warmup routine. I've had successful races where I ate leftover sushi for breakfast and I've had successful races where I ate a bagel, so race day traditions are still a work in progress.
What's your proudest running moment?
I had a great high school running career. Our cross-country team won districts my junior year and we were 3rd in the state my senior year. I ran the 1600m at the VHSL state meet and ran the 4×800 and 4×1600 at the Nike National meet. Our 4×1600 team placed at nationals, which technically makes us "All-Americans."
Despite that, my proudest running moment was finishing my first marathon. I had signed up for the Portland Marathon with my husband, sister, and two good friends. Ten months before the race, my sister bought me a book titled "Advanced Marathoning." She made me read the book and follow the training plan. She set a goal for us of 3:30, which seemed insane at the time. Due to training through the heat of the summer, I barely hit any of my training times. I thought I was doomed for the race. Come race day, the weather was perfect and all the training through the summer paid off. My sister and I finished together in 3:28:06. I couldn't believe that I did it. The runners high from that race lasted for weeks.
What's your life like outside of running?
I am an Operating Room nurse by day (and sometimes by night). When I'm not working or running you can find me napping on my couch. I enjoy hiking, traveling, reading murder mysteries, and going to matinee movie showings. I have an amazing supportive husband, Ben, and a lab mix named Harry. Both of them occasionally will join me for a run.
What is one thing you wouldn't run without?
Lately, it has been my headlamp.