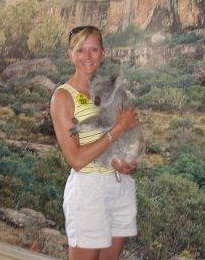 When did you begin running and why?
I was a 100m and 400m hurdler in college at Bowling Green State University. In high school I made two goals I wanted to accomplish post college: one was to do/finish a marathon, and two was to do/finish an Ironman triathlon. Not really a sprinter's dream. Well, 9 marathons, 5 Ironmans, and 4 World Long Course Triathlon Championships later I have done more than I set out to do. I love challenging myself that's why I continue to run and do triathlon competitions.
When did you join the club, and how did you find it?
I joined the club about 2 1/2 yrs. ago with the encouragement of Janet Braunstein. I was coming back from a couple of bad injuries and wanted to try a get some of my running speed back. I have always loved track workouts and was excited to join DCRR.
What's your favorite part about being a DCRR member?
My favorite part is I have and continue to meet very nice people in the club.
What brought you to DC, and when did you move here?
I went to high school here at South Lakes in Reston. I moved back here in 1990 because of my job at the time.
What's your life like outside of running?
Health and fitness is my life. My profession is a personal trainer and triathlon coach. When I am not working or training,I am involved with greyhound and pet adoption. My friends, my two greyhounds, and microbrews help keep me balanced.
What's your favorite race?
The Boston Marathon. Locally, Cherry Blossom 10M. Ironman Lake Placid also rocks.
Do you have any running superstitions/traditions?
I guess having one beer the night before any race would be my tradition.
If you could be stellar at one sport other than running, what would it be?
I bet you thought I would say triathlons…but, I would love to be stellar at the heptathlon.
What's your proudest/fastest running moment yet?
My proudest running moment was getting a 3:14 at Boston. My proudest athletic moment was my last Ironman. A lot of blood, sweat, and tears went into that race.
What do you enjoy the most about running?
That on a really good run you feel like you can solve the world's problems.
What is your favorite route in DC?
I don't really have a favorite running route in DC, but I like to run at Burke Lake.
What races/goals do you have coming up?
I have National Long Course Championship coming on Sept.22. My goal is to qualify for Team USA and go to World's again in 2013, France! In October I am competing in another half ironman where my folks live and I'm looking forward to them cheering me on. Over the winter I will be doing some of the Snowballseries races.
Note: Kim just completed the National Long Course Championship, and totally kicked butt. She placed 3rd in her age group, qualifying her for the Long Course World Championship with Team USA. The race, which is held in France, consists of a 2.6 mile swim, an 80 mile bike, a 18.6 mile run.