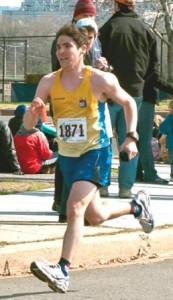 You've run ten marathons and managed to shave 54 minutes off your 2004 MCM debut. This is a tremendous accomplishment. How did you do it?
Basically, I trained. I ran my first marathon in 4:10 and my PR is 3:16 at the 2008 National Marathon. I joined DCRR after my first marathon, 2004 MCM, on the advice of Adam Stolzberg – we played soccer together. I was looking to get faster for soccer, so I joined. I met Chris Sabatini, who mentored and coached me through the 2005 marathon training season, and I ran my second marathon, 2005 MCM, in 3:30. After that, I've dedicated myself to qualifying for Boston. I still need to shave six minutes, or age four years and shave one minute.
Have you reached your potential in the marathon?
I hope not! My goal is Boston. I didn't reach my goal of 3:10 in this year's National Marathon, so I figure I will need to add more mileage and train smarter. And, I'll pick a course that's not as hilly.
What is your current running goal and what will it take for you to get there?
My running goal is to qualify for Boston – that is my sole motivation. I have a singular focus and view all my running through that prism, whether it's racing a ten-miler or 5K, in the back of my mind, I'm wondering how it will help me run my 3:10.
What's your favorite part about being a DCRR member?
The people. DCRRC is an amazing club with fantastic people that truly support one another. I've formed several friendships through my time in the club. I'm always impressed with the quality of athletes and their character.
Ever flirted with the idea of doing a triathlon?
Maybe once I've run Boston. I have a bike that I'm learning how to properly use, but I'm not that interested in swimming. It would take some talking into. I'm more inclined to run an ultra, but we'll see.
What famous person do you most want to run with and why?
Jim Ryun or George W. Bush. I think they'd be pretty good running partners, provided the topics were not politics or policy. Even those you disagree with, you can still find common interest in running.
List your top 3 running destinations.
Aside from Boston, the top three marathons I'd like to run: Hawaii, Athens, and London.