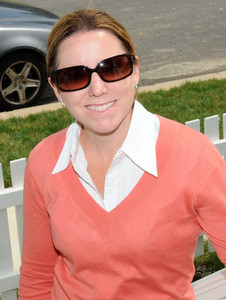 When did you begin running and why?
I started running with my roommates in college – it was a cheap way to stay in shape!
When did you join the club, and how did you find it?
I don't recall the exact year I joined the club (it has been a few!), but it was around 2006 when I was looking for a group to train for Chicago.
What's your favorite part about being a DCRR member?
My favorite part of being in the club is getting to know so many people. I especially love the training groups and seeing a whole new crop of members each training season.
What have you learned being on the Board?
I have learned that this is truly a volunteer organization. There are so many things going on at one time, the support of volunteers is so appreciated.
What's your best running moment?
I think my best running moment was finishing my first marathon – I loved every second of it and will never forget rounding a deserted street corner to see a group of my friends cheering me on.
What do you enjoy the most about coaching?
I really love meeting new people – through the training programs, I think I have found some friends for life.
What are some of the most rewarding and challenging parts of running a training program?
I really love seeing trainees finish their goal race – they are usually so happy and excited. What I love even more is seeing them in the next training program, because I know that we have hooked them!! The most challenging part of the training program is trying to get 200 runners off on a Saturday morning – I don't think my voice is loud enough. I am also not the best with directions, and if I didn't have Andrew Kent helping me, I don't know what I would do.
What is your favorite route in DC?
My favorite route is the 20 (or 22) mile loop through Bethesda and Rock Creek. I never get bored on that route, and I love running it the most with the winter program – I find it incredibly peaceful in parts.
What's your life like outside of running?
Very busy!! I have the best husband (who loves doing water stops) and a very sweet chocolate lab. When I am not running, I love yoga, paddle boarding, reading celebrity magazines, and watching some bad tv. I also have a job that can keep me pretty occupied.
If you could give a single piece of advice to new runners, what would it be?
Have fun – whether it is joining one of our training groups, picking some great routes, or somehow rewarding yourself, make sure you are enjoying yourself so you will keep it up.
What races/goals do you have coming up?
I am running the Army Ten Miler with the trainees and then will do a spring marathon. Still deciding if I should do Rock 'n Roll, Shamrock or go big to Paris!