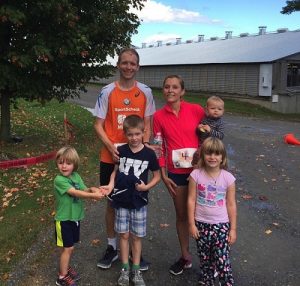 When did you begin running and why?
In elementary school – we did a one-mile run every year, and I was always one of the top finishers, so I decided to become a "runner"!
How did you find out about DCRRC and when did you join?
I joined for one membership cycle after finding some of the club's races on a race calendar (don't recall which) a few years ago, then let my membership lapse. About one year ago, I got my RRCA Level I Coaching certification, which reminded me of the local clubs. I had forgotten how much bang for your buck, so to speak, you get with DCRRC! I also tend to be a solitary runner, but as a coach, I thought it was time to expand my network and get involved in the greater DC running community.
What are you training for right now?
I'm a bit of a strange one, as I'm literally always training. I may recommend periodized training to others, but I don't follow it myself. I don't race that often, truth be told, mostly because it's hard to schedule races with two small kids, and because races can get expensive quickly. That said, when I do race, it's half- or full-marathons. Right now, the only race I'm signed up for is a Ragnar Black Loop in NJ in the fall, but I will probably do a few more races between now and then. But I always sign up at the last minute!
What is the toughest run or race you've ever participated in?
I ran a marathon in Vermont in the fall of 2017 that was brutal. It was gorgeous, but it was super hilly, there was serious elevation gain, and – at one point around mile 18 – the rain was lashing us sideways. There were also only 21 people running the race :). I ran it with my brother, which helped, but it was rough!
What's your favorite part about being a DCRRC member?
I'm not a bells-and-whistles runner, so I really love that the club offers so many great, no-frills events to area runners that are no- or low-cost. I get that a lot of hoopla at races can be fun, but to me, I love rolling up to a starting line 10 minutes ahead of time and just running for the love of running. And knowing there are others with the same mindset!
What's the most important lesson running has taught you?
That I am stronger than I sometimes feel that I am. When life gets hectic and stressful, all it takes is a good, hard run to remind me that I can handle anything.
What is your favorite route in the area?
I run a lot in North Arlington – around neighborhoods, through Clarendon/Ballston/etc., but I'm increasingly drawn to trails. I'm just finishing a Master's program at GMU out in Manassas, so my favorite indulgence is to stop at the battlefield park after class and do a nice, long trail run.
What race day traditions do you have?
Again, I'm pretty no-frills, and I don't have a lucky pair of shoes or lucky underwear :). But I always head straight to the nearest coffee shop and get an extra large coffee after a race. Something about post-run coffee just makes me happy. So it's the thought of that coffee that gets me through the last few miles!
What's your proudest running moment?
When I was getting close to the finish line at that marathon in Vermont, my son and my brother's kids ran out and raced with us to the finish line. Seeing how excited they were to run with us, and knowing that we were teaching them some valuable lessons about healthy life habits and perseverance, really hit home. I was proud of all of us that day.
What's your life like outside of running?
A circus? Running's a big part of my life in many ways, but I do have a full-time job that's not running related. That said, I'm finishing my MS in Exercise, Fitness, and Health Promotion this summer, so I'm hoping to combine that with my coaching certifications to take my career in a different direction. I also have a house full of kids and animals, so there are quite literally NO dull moments in my life.