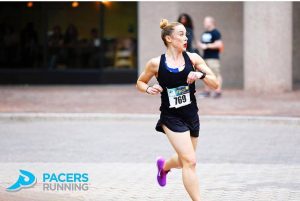 When did you begin running and why?
I was a gymnast for 16 years and absolutely hated running! In high school, I would have my coach write me notes to get out of the mile in gym class. But upon graduating from college and retiring from gymnastics, I quickly realized I needed a new athletic outlet to immerse myself in – and haphazardly chose distance running. Ten years and 12 marathons later, here I am.
How did you find out about DCRR and when did you join?
After several solo marathons, I was losing motivation to get up and out the door. I only knew one decent out-and-back route for long runs, and wanted to step up my training. After researching a few local clubs, I reached out to [fellow board members] Brian Danza and Dylan Barlett to inquire about the DCRR High Performance Training Team. We still laugh at the timid email I sent asking if they thought I could "hang" with the fast kids. Those fast kids kicked my butt, introduced me to a new world of amazing long run routes around DC, and shaved 10 minutes off my marathon PR.
What are you training for right now?
I'm signed up for the Army 10 Miler as a first-timer – I'm so excited to see what all the hype is about! After having hip surgery last summer, it's fun to focus on shorter, faster races. Although I'm still toying with the idea of a late-fall marathon… stay tuned.
What is the toughest run or race you've ever participated in?
Our Monday night tempo runs are pretty tough! But I can't tell you how much they have improved my racing, both in terms of speed and mental toughness.
What's your favorite part about being a DCRR member?
I love being surrounded by a community that is just as crazy as I am. Who embrace waking up at ungodly hours to run ridiculously far in awful conditions. Who love you no matter how sweaty you are or how horribly your workout may go. These are my people.
What's your favorite route in the area?
I really love our Southeast DC SLR route (past Nats Park, down along the Anacostia River, and back home via Eastern Market). I also think early morning runs through the zoo are one of the coolest perks of being a DC runner.
What race day traditions do you have?
Marathons always involve my favorite, sparkly gold headband. And I recently started wearing bright lipstick during 5Ks (you don't stop for water, so your mouth stays intact!). I'm sure no one is surprised that my race day traditions involve makeup and accessories…
What's your proudest running moment?
Finally running Boston in 2015. It took 7 1/2 years, 11 marathons, 7 BQs, and a DNS in 2014 to finally get on the bus to Hopkinton. I cried (happy tears) the entire weekend. I also PRed 🙂
What's your life like outside of running?
I'm a commercial interior designer for a great architecture firm downtown. When I'm not at the office or running, you can find me at the gym or exploring DC's restaurant scene (it's about balance, right?).
What is one thing you wouldn't run without?
My Garmin.