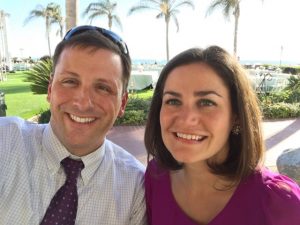 When did you begin running and why?
While I participated in organized and club sports throughout high school and a good chunk of college, I did not run unless it was part of another activity.  Late in the winter of 2011-2012, my wife and I had a couch-to-5K challenge with each other targeting the Police Week 5K in mid-May.  While that goal was motivating, in retrospect I think it was a bit superficial.  I had been putting in a lot of hours at the office and on the road for the previous three years and my work-life balance was decidedly unbalanced.  Running became and has continued to be a source of restoration, balance, and friendship.  I think this is why I identify strongly with a lot of Dr. George Sheehan's writings, Running & Being probably being his best-known work.
How did you find out about DCRR and when did you join?
I found out about the DCRR through a web search in the early spring of 2012.  After starting training for the Police Week 5K I quickly realized that I needed people to run with and more formal guidance and structure.  I joined in March 2012 and started training with the club shortly after that.  Being a novice runner at that time, it provided exactly what I needed.  I have continued running and coaching with the club ever since.
What are you training for right now?
I am currently training for the 2017 Marine Corps Marathon.  This August and September I am also looking forward to running the Beach-to-Beacon 10K (a bucket list race) and probably a September half or two — the Shenandoah Half Marathon and Freedom's Run are on the short list.
What is the toughest run or race you've ever participated in?
The 2016 Yellowstone Half Marathon was one of the toughest races I've run.  Part of that was due to the fact that I was simply underprepared for the race.  I had not done much trail running at that point and the altitude also played a role.  All that said, my wife and I are planning the Glacier Half Marathon and perhaps some other western mountain races for 2018.  As hard as Yellowstone was to run, the outdoors and landscapes were wonderful.
What's your favorite part about being a DCRR member?
My favorite part about being a DCRRC member is two-fold: 1) it's given me many opportunities explore running on my own terms in a constructive environment; and 2) it's helped me become a better and more well-rounded runner faster than I would ever been able to do on my own.  Though running is fundamentally a simple activity and has a low barrier to entry, there can be a steep learning curve and enough information ("advice") in which to quickly drown.  Being a relatively recent running convert, I needed a knowledgable and encouraging community to help me find my own path.
What's your favorite route in the area?
My favorite route would be a toss up between "Glover-Archbold" and "Battery Kemble."  Neither is a particularly easy route, but they remind me of some of the reasons I love living in the District so much — easy access to nature and history.  Though DC is an urban area, there are many wonderful parks, monuments, and green spaces throughout the city.  You don't need to walk (or run!) that far from your front door in order to leave the asphalt, concrete, and politics behind.
What's the most important lesson running has taught you?
This question makes me think of golf.  On the golf course, my grandma would always shoot me a wry smile and exclaim, "Jon, there are only 18 things to remember."  Pace, posture, cadence, breathing, heart rate, power,….  It's easy to get wrapped up in the details and forget to have fun.  I think running is also like golf in that it can never be conquered.  Both sports instill a lot of humility and yield a unique sense of satisfaction when you're fortunate enough to walk away with a good performance.
What race day traditions do you have?
I'm pretty easy-going when it comes to race day traditions; I tend to do all my prep the night before.  The morning of is usually centered around a few glasses of water and a bit of toast with honey & peanut butter.  When it's open in time, I like walking to the Metro station before the race, bib pinned on and gear in hand.  It's a quiet time to prepare and shake out the legs.
What's your proudest running moment?
While I have personal moments of which I am proud, I think this response goes to my time spent as a volunteer coach in DCRRC.  After running with the club for a couple of years, I felt compelled to get my RRCA coaching certification and began working with the DCRRC training programs in the spring of 2014.  Seeing trainees, some of them running their first races, achieve a once-insurmountable goal is a wonderful feeling and one of the best parts about DCRRC.  I remember the first time I ran 3 miles, the first time I ran a 5K, etc. — such a wonderful feeling.  Much like the RRCA's mission, the DCRRC champions the development of community-based running and events that serve runners of all ages and abilities in pursuit of health and competition.  In my new position on the DCRRC board, I am proud to help contribute to and carry on that mission.
What's your life like outside of running?
Life outside of running is always somewhat crazy.  As you've picked up by now, running tends to be my escape / refuge.  I am lucky in that my wife Claire also runs, so it's a joint activity for us.  When we're not running, there's a good chance we're talking about running or something running-related.  I am an electrical engineer at the NASA Goddard Space Flight Center.  I love my job, though it keeps me busy and traveling.  Every day is different, the workforce is dedicated to the Agency's mission, and there's always something interesting to build or operate.  NASA's vision statement captures it for me: "We reach for new heights and reveal the unknown for the benefit of humankind."
What is one thing you wouldn't run without?
This question is deceptively simple, though I would say "a good night's sleep."  Yes, there's water / fuel, Glide, 3M Micropore Paper Tape, and a few other things — but I'll put sleep at the top of the list.  Aside from speed work and strength training, sleep is critical for me to be a happy and healthy runner.