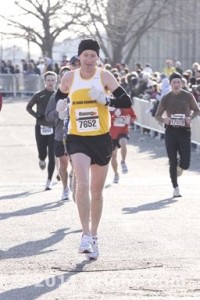 Joe is a dedicated club member and coach. He's been with DCRRC for nine years, and has taught a number of trainees along the way! You can catch him at SLR, at a number of our training program runs, and along the C&O Canal.
What's your favorite part about being a DCRR member?
Being a training program coach.
How did you start running?
My first endurance event was a sprint triathlon.   I was so disappointed with my run split that I decided it would be easier to just run, instead of run and bike and swim.
Why do you run?
I just enjoy the act of running for its own sake.
What is your favorite running route in the DC area?
The C & O Canal.
What's your life like outside of running?
I work at Datastream Content Solutions in College Park, MD.
Describe your favorite race.
The 2011 National Half Marathon.   I ran the first 10 miles easy and the last 3 hard.
What's your current running goal?
Finish the Cherry Blossom Ten Mile race in under 1:10.   If I get in my assigned corral this year and don't waste a lot of energy in the first few miles, I should be fine.
What's the best running tip you've ever received?
When it comes to pacing, err on the easy side.   Especially on long runs.
In your 9 years with the club, what have you seen change?
The club races are so well done now with the tags, timing mats and online registration.