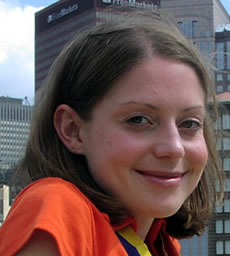 Q: What is your favorite running trail?
A: Glover Archibald to Battery Kemble Park.
Q: What is your favorite SLR trail (if different from favorite running trail)?
A: Same as above.
Q: What SLR trail should Max and other course planners never have charted and exposed unsuspecting runners to?
A: Anything involving the Mount Vernon trail.
Q: What's on your race schedule this year?
A: Cherry Blossom, Boston, Boilermaker 15k, Bunion Derby races, Army 10, New York City Marathon.
Q: What's your favorite marathon?
A: Portland, OR.
Q: What would you say was your most memorable race?
2003 Chicago Marathon. We had about 30 people from the club head to Chicago for the race (as both runners and cheerleaders) and being able to share that day with so many people I cared about so much was an amazing experience.
Q: My Run from Hell, or the Run I Should Never Have Embarked Upon, is….?
A: Potomac Heritage Trail-it's a great trail along the river (you can pick it up near Roosevelt Island and take it to Donaldson Run and Potomac Overlook) but last summer I fell and wound up with poison ivy covering the entire right side of my body.
Q: What is your marathon PR?
A: 3:11
Q: What is your average mile pace during SLR runs?
A: 7:45.
Q: What's the best running shoe you've ever worn?
A: Maybe not the best ever, but my favorite was the 2002 Mizuno Wave Maverick (please write a letter to your congressional representative urging them to start making it again!)
Q: What do you currently run in?
A: Adidas Supernova Classic and Asics DS Racer for races.
Q: How many pairs of running shoes do you use per year?
A: A lot.
Q: What is the funniest thing about your current job? (No need to divulge any classified information :))
A: I can't really think of anything funny. I can wear jeans every day and flip flops in the summer, though, which is pretty awesome.
Q: What's the worst job you have ever had?
A: I've been pretty lucky–I've never really had a horror-story job. I had a manager when I was waitressing who was a little too "hands-on" but I could outrun him.
Q: Name your favorite pizza.
A: My mom's-she makes the dough from scratch and we ate it every Saturday night when I was growing up.
Q: What is the most recent book you've read?
A: I just finished Identity by Milan Kundera and The Hermit's Story by Rick Bass (I highly recommend them both).
Q: Who is/are your favorite Nobel prize winner(s)?
A: Gabriel Garcia Marquez (literature, 1982).
Q: If you were a car, which car would you be?
A: VW Cabrio.
Q: Caribbean Cruise or Appalachian Trail Hiking? Why?
A: Can I choose hiking in the Caribbean?
Q: Preferred Starbucks espresso drink?
A: Grande skim latte, no foam, extra hot
Q: Top three movies ever seen?
A:
Run Lola Run
Fight Club
South Park
Q: What's your preferred (or least repulsive) Gatorade flavor?
Blue is pretty repulsive, so I guess anything other than that-although strangely, I like blue Powerade.