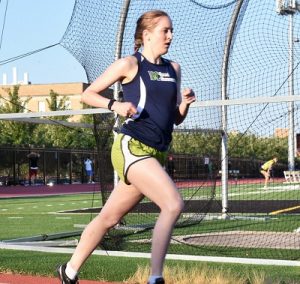 When did you begin running and why?
I always disliked PE and similar things and honestly started running as an accident. A 6th grade friend's sister was sick so I took her spot to walk a 5k and then asked if it was okay to run from the halfway point and enjoyed it way more than I expected. From then on, I was hooked. Running helps keep me sane, is my favorite way to explore cities old and new, and is one of my favorite ways to spend time with health-minded and fun, goofy friends.
How did you find out about DCRRC and when did you join?
I saw it listed in a blog summarizing about ten of the area's running groups and after trying five of them, DC Road Runners is the one that feels most like home. I joined in fall 2017 just after I moved to the area.
What are you training for right now?
I was training for the Army Ten Miler and then decided in mid-August to grab a Marine Corps Marathon transfer bib. So, I've jumped back into the marathon training fun and just did my biggest mileage week in forever while doing my late August Europe splurge trip.
What is the toughest run or race you've ever participated in?
My high school regional and state cross country finals my senior year were pretty brutal: it went from about 95 degrees with some of the top runners collapsing from heat stroke at regionals and then was 34 degrees with an uphill finish the next weekend for state, which is particularly tough after doing all training in 70-80ish degree, pancake-flat Florida. It was really hard, but I do still enjoy keeping in touch with a number of high school running teammates as well as rivals who became friends.
What's your favorite part about being a DCRRC member?
Wednesday night track is where I do my best running: thanks friends and Coach Ed! I nervously forced myself to try it my first week in DC, made one of my favorite DC friends that day and haven't looked back. I also really enjoy the Bunion Derby race series and have loved participating in two book club meetings so far.
What's the most important lesson running has taught you?
It's best described by this quote: "Everything seems impossible until it's done." -Nelson Mandela
What race day traditions do you have?
Sleeping in my race gear the night before and wearing lots of sunscreen for the actual race. I'm pretty minimalist about racing at this point.
What's your proudest running moment?
Definitely the first time I qualified for Boston at the 2015 Spinx Marathon, "my Olympics". It was a magical day in Greenville, SC, my adopted hometown, and afterwards I was able to (get a free massage and eat almost everything in sight and then) celebrate my dad's birthday with my parents.
A close second is the recent first-place mixed team finish at the Ragnar Appalachians Trail Relay with a variety of DC Roadrunners friends who were crazy enough to jump in on my quick-turnaround ask to join my first Ragnar team. We each did 14.6 miles total between three different loops between 3:45 pm Friday and 11:35 am Saturday. It was such a fun and exhilarating experience complete with amazing stars and the largest marshmallows that I have ever encountered.
What's your life like outside of running?
As my friends and family know, I don't sit still well, so when I'm not at the office, I'm usually either volunteering, spending time with friends, working on to-do lists, attending church events, planning my next adventure, doing yoga or trying to soak in all the culture in our area. Oh, and I also need sleep to be a pleasant person 🙂