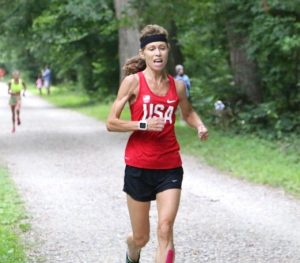 When did you begin running and why?
In 1982, while working as a Wall Street lawyer in NYC, I decided to start "jogging" ('80s term) around the Central Park Reservoir – a popular running course near my apartment. My motives were mainly social, i.e., it was better than meeting guys in singles bars. Ten years later, after I had moved to DC, Bob came into my life. His strategy for winning my heart was to upgrade my running. I ran my first 10K ever with Bob in September 1992 and then ran seven 10Ks over the next four months earning a PR each time! You could say that this was when I really began running. Bob and I chased each other to the altar in May 1993!
How did you find out about DCRRC and when did you join?
In June 2015, Betty Blank invited me to come and run the DCRRC Women's Distance Festival 5K with her. At the race, I met some really nice DCRRC folks. Bob and I joined the club that summer.
What are you training for right now?
The Cherry Blossom 10-Miler. While I've run a number of other 10-milers, this will be my first Cherry Blossom and I'm excited that Bob and Betty will be running it with me.
What is the toughest run or race you've ever participated in?
The 2017 Tokyo Marathon. Two months prior, I had been diagnosed with bone-on-bone osteoarthritis in my left hip. My training runs were getting progressively slower and more painful, so I decided to try a "run five minutes/walk one minute" strategy. It worked well for the first eight miles or so, but then the pain set in. I struggled through the next twelve miles, putting one foot ahead of the other and slogging it out. By mile 20, I knew that I would not let myself drop out. I adopted a slog/walk strategy that got me to mile 26 and then, I actually ran the last 200 meters to the finish line, buoyed up by the cheering spectators! Two months after this marathon, I had hip resurfacing surgery. After a 6-month hiatus, I was able to return to running and I am now enjoying it more than ever!
What's your favorite part about being a DCRRC member?
The club is a wonderfully diverse community comprised of runners ranging in age from the 20's to the 80's! Bob and I have experienced firsthand the warmth and caring of the members during my recovery from hip resurfacing and Bob's treatment for neck cancer.
What's the most important lesson running has taught you?
I discovered the power of consistently taking small steps toward a big goal when I decided to train for my first marathon, the 2013 Marine Corps Marathon, at age 57. From March through September 2013, I gradually upped my mileage per week, sweating it out over a hot and humid summer. When race day arrived, I was ready and my finish time even qualified me to run Boston!
What is your favorite route in the area?
The Mount Vernon Trail. This route has it all – beautiful vistas of the Potomac, wood plank bridges, undulating hills and, if you're lucky, a deer or flock of Canadian geese.
What race day traditions do you have?
Bob and I kiss for good luck at the start line of every race.
What's your proudest running moment?
On July 4, 2016, I won the DCRRC Age-Graded Four Miler. I will never forget the feeling of leading the entire pack of runners and hearing my colleagues cheer me on as I got closer and closer to the finish line! My training partner and BFF, Betty Blank, finished just 9 seconds behind me. So, we shared this moment together.
What's your life like outside of running?
After 33 years, I am happily retired from lawyering. In addition to running and physical conditioning, I am passionate about cooking – to my family's delight! My other interests include piano and historical non-fiction. Bob and I live in Mount Vernon not far from POTUS1's estate. We have two awesome sons – Evan, who is attending the Scalia School of Law (part of George Mason), and Kyle, who is attending Georgetown.