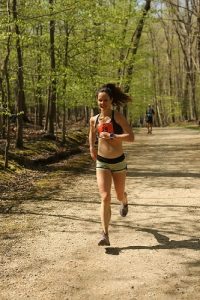 When did you begin running and why?
I never liked running growing up. Running the mile in elementary school was always a dreaded day. I was really into high intensity cardio classes when my sister came to visit me for July 4th back in 2013. I couldn't make it to a class, so I went up to my apartment gym and jumped on the treadmill. I couldn't believe it…I was able to run three miles! The gym classes gave me that cardio capacity. So, I began to run when I couldn't make it to a class and ran my first 10K later that year. When I broke my wrist at the beginning of 2015, I couldn't go to gym classes at all. All I could do was run and so I did…a lot. I was hooked. I did my first Half, Full, and 50K that year. And, my love for running and miles have only grown since.
How did you find out about DCRRC and when did you join?
The social aspect of running is one of the best parts to me. The miles fly by and you you never know where the conversation will lead. As my weekend runs got longer, I looked for company and found DCRR SLR in Summer 2015.
What are you training for right now?
I like races I don't have to sign up for too far in advance. It makes no sense, but I'm always worried I'll end up jinxing myself and be injured when the race rolls around. So, I try to keep my training consistent and sign up for things that interest me along the way. That said, the Labor Pain 12-Hour Trail Run in Reading, PA is a fun course and has a great group of people, so I'm hoping I'll be able to do that in September.
What is the toughest run or race you've ever participated in?
One of the most interesting things about running is how quickly the brain forgets the most painful moments. They all seem to disappear as soon as you finish. It's why we keep coming back for more.
What's your favorite part about being a DCRRC member?
The people! You never know who will be there, how fast or how far you might go, but it's always fun. They also inspire and push me to be a better runner.
What's the most important lesson running has taught you?
We're always looking forward to our next goals and often take for granted being able to run. Running is cyclical. Injuries and setbacks happen. Because of that, I've learned to celebrate and embrace my successes, and truly appreciate when I'm running well. I've also learned that comebacks happen too. When you think you'll never get back to where you once were, you somehow do.
What is your favorite route in the area?
We're really spoiled in Washington. There are so many great routes to choose from. On pavement, I love the Anacostia Riverwalk Trail. You can make a lot of different loops out of it, it goes for miles and miles, and it links up some great, lesser-visited sites. As for trails, Western Ridge in Rock Creek Park is my favorite.
What race day traditions do you have?
Caffeine! I don't ever have it except on race days. It makes me feel super human.
What's your best running moment?
My father ran Boston many times when I was growing up. I never thought I'd be a runner, so making him proud is a huge motivator for me. He just came to watch me run my first Boston in April, along with my mom and sister. Having them there, combined with the pouring rain and a PR, made crossing that finish line unforgettable.
What is one thing you wouldn't run without?
I'd say shoes…but if someone took my shoes away, I'd still find a way to run.