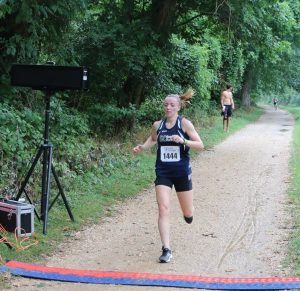 When did you begin running and why?
My parents signed me up for soccer when I was 5 as an outlet for my endless energy. I continued to play through college, but always considered running that didn't involve chasing a soccer ball more of a training tool or punishment. After college I started to run casually to stay in shape, but it wasn't until I did my first half marathon that I realized I craved having a goal to work towards and wanted to keep going. What started out as getting back in shape has become something I really love and a big part of my lifestyle.
How did you find out about DCRRC and when did you join?
My husband, Rodrigo, and I joined in late December 2016 after searching online for local clubs. With all the group workouts and club races, DCRRC seemed like the obvious choice!
What are you training for right now?
I'm doing an Olympic distance triathlon on August 13th, but my main focus is training for the Lehigh Valley Via Marathon in Pennsylvania in September. It's a flat course a lot of people use for BQs, but I'm also looking forward to it since I grew up in the area and some family members will be at the finish line.
What is the toughest run or race you've ever participated in?
This past spring I did the North Face Endurance Challenge 50k. I had never done a trail race and did not know what I was getting in to. While I liked trying something new, I will definitely stick to the road for now.
What's your favorite part about being a DCRRC member?
My favorite part is how encouraging and friendly everyone is. While I feel so lucky that Rodrigo likes to run as much as I do, marathon training started to feel more isolating since none of my friends run. It's so much easier to get through a tough workout when there's a group around you doing the same thing. After years away from soccer, I feel like I have a team again.
What's the most important lesson running has taught you?
Running has taught me a lot about perseverance and that many times I am capable of more than I realize. Especially right now in the summer, training can feel a little defeating, but I know if I keep pushing through, I will see the benefits later on.
What is your favorite route in the area?
The Big Loop! It is by far my favorite way to get in the longest Long Run of a training cycle.
What's your proudest running moment?
My proudest running moment was winning the Rock n' Roll DC Marathon this past March. Not just for the obvious reason, but because it was the culmination of my first training cycle with the club. It was the first time I was incorporating tempo runs and track workouts into my training, and during the race I was able to maintain a fairly even pace throughout (not counting the killer hill at mile 22!). That day I felt like I ran well and within my abilities, so to round the last corner and see them holding up the tape felt incredible.
What's your life like outside of running?
There's life outside of running? While running takes up a big chunk of my free time, when not running I'm usually taking our dog for a walk, going for a bike ride or being active in general. I also coached girls soccer for the Arlington Developmental Program for 3 years.