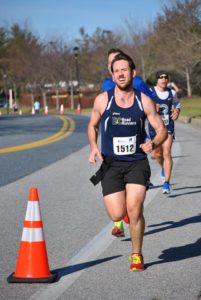 When did you begin running and why?
I started running my freshman year of high school to get in shape for tennis and soccer. I got cut from the JV soccer team, so I stuck with the running thing. I eventually ran for a small DII school–Florida Southern College (go Mocs!)–and have been at it more or less since making some great friends along the way.
How did you find out about DCRR and when did you join?
After nearly giving up on running due to injuries and grad school demands, I decided I needed to address my expanding mid section. I started running again, found my way into some of the low-key races, and jumped in the occasional SLR. I joined last year after finding the club to be an inclusive, encouraging, and casually competitive space in the DC running community.
What are you training for right now?
I'm currently training for the Richmond Marathon and hoping to chip away at my marathon PR.
What is the toughest run or race you've ever participated in?
I had to be carted off a hot, swampy Florida cross country course during the regional championships my senior year of high school. I passed out about 400m from the finish. That was pretty unpleasant.
What's your favorite part about being a DCRR member?
There is always someone to run with when I can get out of bed, and getting to know other local runners has definitely made me more accountable. Love the camaraderie at races too.
What's the most important lesson running has taught you?
To paraphrase something I heard Carlos Santana say at a concert one time: the universe rewards the intensity of your intentionality.
What's your favorite route in the area?
I'm a big Rock Creek Park fan. I regularly run the bike path by the zoo into Dumbarton or through Georgetown, but when I have time to kill I love to get on the trails and cruise in the woods for a while.
What race day traditions do you have?
Banana, P.B. toast, coffee, and some energetic tunes. Shout out to my wonderful girlfriend Adrienne who usually is there to cheer me along/ hold my backpack!
What's your proudest running moment?
I'm proud to have gotten to know so many accomplished and driven people through the different phases of my running life–running on a college team in particular brought with it a ton of great memories. Nowadays, I think each marathon cycle leaves a lasting imprint. I also set a state record in the beer mile long ago!
What's your life like outside of running?
I have an office job downtown, working for working people. I enjoy hiking, lawn games, and my couch. I play on a work soccer team with a losing record but a lot of heart. I can usually be found kicking around with friends in Adams Morgan or Columbia Heights on weekends.
What is one thing you wouldn't run without?
Usually just need the essentials, with some footwear considerations based on terrain and effort.