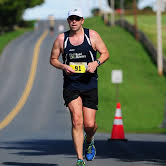 When did you begin running and why?
I started running in the fall of 1999, after watching runners in the '99 Marine Corps Marathon. I was looking for a new challenge and running a marathon sure looked like one. My training was unconventional my first year, but I finished the 2000 MCM.
How did you find out about DCRRC and when did you join?
After getting back into marathons in 2008, I wanted to improve my time. I looked online and found the DCRRC training program for the 2009 National Marathon.
What are you training for right now?
It depends on the definition of "training". I sprained my ankle on my honeymoon in April and aggravated it in May and June, so I was out all summer. Just when it was almost back to normal, I had to spend the first two weeks of September in the hospital. I'm recovering well, but as of October 1 running is still a ways off. But I just registered for the 2018 DC Rock N Roll Half-Marathon. So for now I'm training with a lot of walking and by continuing my recovery.
The timing of being the Spotlight Runner is ironic – this is the longest I haven't run since before I started.
What is the toughest run or race you've ever participated in?
A 24-hour race called 20in24, in 2012. My goal was to finish 12 laps of the course, or 101.5 miles. In races like this the real running starts sometime after the first 50 miles. The race started and ended at 10 am. I don't know if there is a good time of day for the second half of a 24-hour race, but the overnight hours were a huge physical and mental effort. I managed to run 92 miles, and then I walked. I achieved my goal in 22:53! I had time to walk a few miles further, but the chafing was such that I was afraid to continue. And everything else hurt too.
What's your favorite part about being a DCRRC member?
I have learned so much about distance running through DCRRC training programs. And I greatly enjoy passing on that knowledge by coaching in the training programs. It's cool to see a fire being lit in someone who has never before run a 10K, ten miles, 13.1, or a marathon. It helps me enjoy my running too.
What's the most important lesson running has taught you?
You have more strength in you than you probably realize. If you put in the work, you can find out just how much strength you possess.
What is your favorite route in the area?
Living on Capitol Hill, I love running to the Capitol, down the Mall to the Lincoln Memorial, and back. It's such an excellent place to run. You can choose to run in sun or shade, you have a lot of company, water and bathrooms are plentiful during the day, and it draws people from around the world. It's especially great as a first run back home after a sightseeing vacation.
What race day traditions do you have?
Try to get plenty of sleep, get to the race early, pack some chocolate milk for after the race. For long races, pack a beer too.
What's your proudest running moment?
The time I broke a 9-and-1/2-year-old marathon PR on a hilly course. I ran my second marathon (2001 MCM) in 3:55 and then I stopped running marathons for a few years. By 2009, after a year in the marathon training program, I felt ready to challenge my PR. My first few tries came up short. At a RRCA coaching class (thanks DCRR!), I learned just how many ways I could be training better. After a season of incorporating lessons, I ran the inaugural 2011 Gettysburg Marathon. At mile 18 I was running a 4:00 pace and my legs felt great. So I went for it and dropped the hammer. As it happens, the race had no sign for mile 25(!). Since I run with a stopwatch, I ran my last mile-ish not knowing whether I would beat my PR. I did, finishing in 3:53. All marathons hurt, but that one hurt so, so good.
What's your life like outside of running?
I pay for my running habit (and all of the other hobbies) by working as an engineer at Naval Research Laboratory. It's very interesting; there's something new to learn on every project. I have been singing in the Capitol Hill Chorale for a long time. I met my wife Melissa there; we married in November of last year. We enjoy travel, food, running and hiking, and an occasional Nationals or Capitals game. I like a good beer or two and I make beer at home when I can. I'm a fan of cross-training; I like to work out, go on a long bike ride, and I make an occasional outing on my inline skates.
What is one thing you wouldn't run without?
My Timex Ironman stopwatch. There is some neat tech out there, but it doesn't make me run faster.