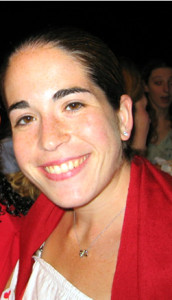 Q: How many years have you been running?
A: I've been involved in running in some way or another since my first season of high school indoor track: the 1991-92 season.
Q: What got you started running?
A: Freshman year of high school, I was definitely not an athlete, and fine with it. But my friends, twin sisters Rita and Sonia, had both run cross country and really liked the coach. They convinced me to come out and try indoor track, and I did–as a sprinter. Coach Watson really was awesome, and he eventually convinced me to move up in distance, first to the 600, then the 1000, then the mile and two-mile. Some of our indoor meets lasted hours, but I loved the friends I made and even got to like the torture of distance running. I continued running distance throughout the rest of high school, not intending to compete in college, but decided to walk on to the Cornell team sophomore year in a moment of insanity.
Q: What has kept you running past the glory days at Cornell?
A: I actually quit running for the team at the beginning of senior year at Cornell. I didn't like the coach too much and I could still run with my team friends when they didn't have meets. I realized that it was the training runs I liked best and not the competition aspect of it. I knew I would be a lifelong runner and eventually get into marathons. After I graduated, I decided I missed the track, though, so I started doing the DCRRC Wed. night track workouts at Georgetown in January 2000. At the first workout I went to, the track was too icy to run on, and Coach Ed had us do something like 30 200 meter repeats on the infield. Something about it clicked, though, and I've only missed a handful of Wed. night workouts since.
Q:You do some interviews for Fast-women.com. What's been your most memorable interview?
A: Probably Lauren Fleshman. She is just so well-spoken, smart about training, put-together, etc. Not to mention an amazing talent who I bet we will see at the Athens Olympics this summer. She was a great interview because she was willing to answer pretty much any question and had something interesting to say in response to anything I asked.
I also loved interviewing Shannon Rowbury, who is now at Duke. I spoke to her right after her senior year in high school and she was so positive about running and life in general. She got more serious about running after reluctantly cutting back on her first love: Irish dancing.
Q:Who is your favorite elite distance runner?
A: I can't limit it to one! As you can tell by my above answer, I'm a huge Lauren Fleshman fan. But not too far behind are Shalane Flanagan and Deena (Drossin) Kastor.
Q:What's your favorite running website? (It better be Letsrun.com or I'm telling Rojo!)
A: I definitely peruse the letsrun.com message boards, but obviously Fast-women.com is my favorite! I also like Dyestat for keeping up with what's going on in high school running.
Q: What is your favorite running trail?
A: Rockefeller State Park Preserve in Sleepy Hollow, NY. We had our home cross country course here in high school, but I didn't appreciate it. Now, I don't even mind doing long runs there alone because it is so scenic and challenging that there is always a lot to think about. Although I have never seen him running here, apparently Khalid Khannouchi does the majority of his training in Rockefeller. This past August, I did an 18-mile training run in the park with the New York Flyers, who had Gatorade, water and food for us at several points along the course–it was awesome and some great hill training.
And in Ithaca, NY, my favorite running trail is Freese Trails–you get to go over a bouncy suspension bridge, cross several gorges and it is almost all off-road.
Q: What is your favorite SLR trail?
A: I guess I'll jump on the Ross Drive bandwagon. I like courses that are loops, usually, but the out and back isn't bad on this one because you are coming down Rock Creek on the way back.
Q: What's on your race schedule this year?
A: Most people who know me well realize that I love training, but racing freaks me out. As I write this, I am already nervous about the Reston 10 Miler that I am doing tomorrow (March 20.) But I hope to improve my outlook on racing and have my times reflect my training better. That being said, I'll be doing Cherry Blossom, the Runner's World Half Marathon (April 25) and then gear up for a fall marathon–probably New York but potentially Marine Corps.
Q: What's your favorite race?
A: Even though it is very painful, the Women's Trail Half Marathon put on by the Virginia Happy Trails Running Club is awesome. It takes much longer than a typical half because it is all on trails, but it is very well-organized and a beautiful course. They even have male cheerleaders!
Q: What would you say was your most memorable race?
Hmm. I think the first time I qualified for Boston was pretty memorable. I had missed qualifying by about 30 seconds at MCM 2000 because I had to make a port-o-potty stop. In 2001, I had lots of help along the way, including a few miles with one of my best friends, more than 10 miles with Emily Davies and the last 6 with my dad (a recreational runner who totally surprised me by jumping in at mile 20.) Plus, since we ran by the Pentagon so soon after the terrorist attacks, it was a very emotional race.
Q: My Run from Hell, or the Run I Should Never Have Embarked Upon, is….?
A: Oh, I have lots of bad runs. But I don't usually regret any of them. I guess this past summer, there was one run that Christine Bosl and I did that sort of turned into the Run from Hell: we started at my place in Woodley Park and I miscalculated how far it would be to run to Bethesda via the Capital Crescent and then come back along the Georgetown Branch Trail and the MD part of Rock Creek Park. Anyway, both of us hate the hot weather and did pretty well until we hit 3+ hours of running time and realized we were still several miles from my house. Needless to say–we had a nice walk home.
Q: What PR are you most proud of??
A: My "I ran every day in 2003" record! The streak is still young, but I'm still grateful to have been able to do it.
Q: What is the funniest thing about your current job? (No need to divulge any classified information :))
A: One of the guys in my department used to be in Chicago's Second City comedy troupe. He's pretty funny. Also, the fact that everyone in the Communication and Marketing department has a TV in their cubicle or office (purportedly to "monitor Red Cross response to disasters.")
Q: What's the worst job you have ever had?
A: I haven't had anything too bad. When I was volunteer coaching for the Potomac Valley youth track program this Fall, we had several vomiting incidents–that was pretty disgusting.
Q: What is the most recent book you've read?
A: I read a lot of crap. But I just finished "The Usual Rules" by Joyce Maynard, which is a fictional story about a 13-year-old girl coping with the loss of her mother in the Sept. 11 attacks. It was really touching.
Q: Who is/are your favorite Nobel prize winner(s)?
A: I admittedly had to do some research on this. I think my favorite is Barbara McClintock, the 1983 Nobel Laureate in Medicine for her discovery of mobile genetic elements, or "jumping genes" as my AP Biology teacher called them. She is a Cornell alumna.
Q: Preferred Starbucks espresso drink?
A: Gingerbread latte.
Q: Top three movies ever seen?
A:
The Sure Thing
The Joy Luck Club
The Sweet Hereafter
Q: What's your preferred (or least repulsive) Gatorade flavor?
A: I just found a new one! The X Factor: lemon-lime and strawberry combo!
Q: Is Ithaca really GORGES?
A: Absolutely. We were just back there a few weeks ago and I had forgotten how awesome it looks with all the snow.
Q: When will you join us at Dremo's following the track workouts?
A: That's a tough one. Perhaps later this year, right before we (sniff, sniff) leave for wherever it is we will be moving. Don't worry, we'll be back!