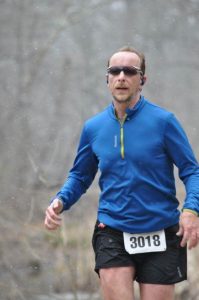 When did you begin running and why?
I began running seriously 3 years ago. I had to be a "buddy runner" for my daughter's 5K, and wanted to make sure I was able to do it. I went out into the neighborhood and ran 3 miles. I enjoyed that run so much, that I decided to continue running regularly. I registered for the Cherry Blossom on a whim soon after, and figured I needed to train more seriously for that. Ran my first marathon a year after those first 3 miles.
How did you find out about DCRR and when did you join?
Found out about DCRR on-line, while looking for local running clubs. I liked all the races and training you offered. I figured, what do I have to lose except 20 bucks?
What are you training for right now?
I am trying to BQ. I had a slight hope I could still do that in for 2017, in a September race but that may be slipping through my fingers as I am enjoying my Summer Vacation.. After September I will jump an age group, so hopefully it will get easier ;-). Will be looking for a fall Marathon. Probably Philadelphia or Richmond.
What is the toughest run or race you've ever participated in?
I have done four marathons, that all went pretty smooth. The last few miles are always tough, but a smart woman once told me "otherwise you are not doing it right". My last DCRCR 5K, was very hot and humid, and I was set on running a PR. The last mile was tough..
What's your favorite part about being a DCRRC member?
I love the running community! Everybody is so supportive. I love being active in the club helping to coordinate the volunteers. I think volunteering is part and parcel of the running experience. Helping each other to achieve our goals and enjoy running, whether it is a first 5K, a BQ or a club record.
What's your favorite route in the area?
Too many.. Love the Towpath. Or Beach Road in the winter when all other paths are snowed over. Still love running on the Mall. Running in DC area is a blessing!
What's the most important lesson running has taught you?
Being in the moment.
What race day traditions do you have?
Not too many really, except waking up too early. I generally put out all my clothes, gels, shoes, etc. the night before (I have been accused of OCD in this regard..)
What's your proudest running moment?
Oh, I just got started. Not too much really. May be when I took my daughter to my hometown Rotterdam for the Marathon there. When I heard her call me out at the finish line, it made me happy!
What's your life like outside of running?
My family: Raising my 3 kids (between 6 and 16). I love spending time with them. Working at the World Bank (IFC), I enjoy working with people from many cultures. I go to see live music when I have the chance.
What is one thing you wouldn't run without?
I hate to say it, but my watch. I am definitely guilty of the feeling that if it isn't tracked it doesn't count…..