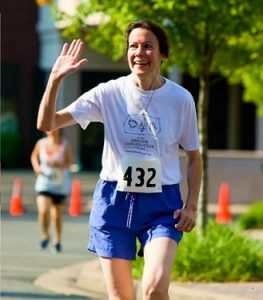 When did you begin running and why?
I started running the old-fashioned way – with high school XC and Track & Field. However my adult life had various running respites. The recommitment to my sport came in 2001 as I rehabbed from a Giant-cell tumor in my femur and the orthopedic surgeon indicated that I needed to find a replacement exercise. What?
How did you find out about DCRRC and when did you join?
I knew of DCRRC through my sister, Mary Pitchford, who was practically a pioneer in women's running. She ran the Cherry Blossom 10 Miler in the late 1970s and early 1980s. I joined the Club in 2013 after participating in the inaugural DCRRC Reading and Running Program at Cherrydale Library in Arlington. I learned how our Club was the catalysts for many community and fundraising races and that aspect intrigued me.
What are you training for right now?
My short term goal is to improve my 10K before Atlanta's Peachtree Road Race in July. Maintaining strength throughout a half marathon is a long term goal.
What's your favorite part about being a DCRRC member?
Unabashed boasting! I'm proud to be part of a community- minded organization that promotes fitness and hosts happy hours! Another favorite aspect is meeting other runners. DCRR members are smart, speedy, kind and connected. (Some are quirky, but I'm not naming names.)
What's the most important lesson running has taught you?
Literally and, if you're willing, figuratively running takes you places.
What is your favorite route in the area?
Love the paved trails that cut through Arlington, but equally appreciative of the C & O Towpath.
What race day traditions do you have?
I always try to thank the volunteers and cheer on the other runners.
What's your proudest running moment?
New York City, Baby. Just one year ago, I ran my first half marathon. I ventured by myself and out of my comfort zone. I took the Vamoose Bus, navigated the Big Apple and stayed with a friend I hadn't seen in 30 years. It was such a positive occasion.
What's your life like outside of running?
I'm married to David. We have two amazing 20-something children, Kelsey and Albert, who are my pride and joy. I work in Arlington Public Schools. I'm currently seeking input from members regarding Community Outreach.
What is one thing you wouldn't run without?
Ugh, I am guilty, but don't run without identification! Perhaps we can do a group order of wearable IDs.