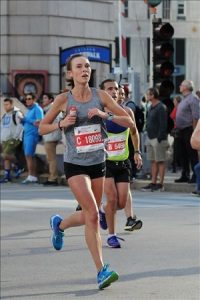 When did you begin running and why?
I first discovered running in 5th grade, when I had this great PE teacher who challenged us to run around the field during recess to build up to 100 miles during the school year. I ran cross country in high school, but really fell in love with distance running when I trained for my first marathon, the 2011 Twin Cities Marathon. I had graduated from college and moved to Minnesota that year and wanted a big goal to mark that transition in my life.
How did you find out about DCRRC and when did you join?
After years of running alone, I think I googled something like "running groups near Arlington." I showed up to SLR on a frigid morning in early January 2017 hoping I wouldn't be the only one there, and quickly realized that these people weren't going to let weather get in the way of a run. Everyone was so welcoming, and I joined the club not too long after that.
What are you training for right now?
I just ran the Chicago Marathon, so currently I'm trying to enjoy some forced time off. I'm hoping some lingering aches and pains clear up quickly so I can run for fun for a while before beginning to train for Boston.
What is the toughest run or race you've ever participated in?
The Richmond Marathon in 2013 was pretty miserable. It was cold and intermittently rainy and I was having stomach issues. I ended up qualifying for Boston for the first time, probably because I just wanted it to be over, but I couldn't get my blood sugar or body temperature under control afterward.
What's your favorite part about being a DCRRC member?
I love being a part of this community. It's fun to be around people who don't get tired of talking about running, and the encouragement (peer pressure?) to push myself has led to huge improvement in my training.
What's the most important lesson running has taught you?
I've learned to value effort and persistence over pretty much anything else–things that are hard can also be really rewarding.
What is your favorite route in the area?
I like the Arlington Triangle because I can start right outside my door and see lots of different scenery along the way. But really any route that involves running with good people to chat with is a win in my book.
What race day traditions do you have?
Does getting up ridiculously early and arriving at the start hours before it's really necessary count? I've made friends with a lot of strangers sitting around waiting for races to start.
What's your proudest running moment?
Finishing Chicago with a 12-minute PR a couple of weeks ago is high up there. It was the culmination of my first full training cycle with DCRRC, and I had added a lot of miles, done tempo and track workouts for the first time, and asked for and received a lot of good advice. I don't think I could have pulled off a time like that without all the support and encouragement from people in the club.
What's your life like outside of running?
I teach 2nd grade, so I spend a lot of time answering random questions and holding back ill-timed laughter. The kids and I all look forward to our very official Friday recess races. Other than that, I love hiking and eating.
What is one thing you wouldn't run without?
My brother says that if it's not on Strava, it didn't happen, so my Garmin.