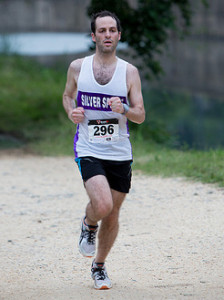 When did you begin running and why?
I joined my high school's cross country team in the summer of 1994, before the start of my freshman year. I wanted to play a sport but didn't have the actual athletic ability to do anything else. I'd call myself a decent high school runner who then spent the next thirteen years dabbling in more serious training for a few months at a time. In the fall of 2010, something clicked and I decided to train for the Flying Pig Marathon in Cincinnati the following spring. I've been training seriously ever since.
How did you find out about DCRR and when did you join?
I grew up locally so I always knew about DCRR. I joined a couple years ago, and then started doing the Wednesday night track workouts about a year ago in order to get more serious about my speedwork.
What are you training for right now?
My wife and I have a baby boy arriving in August so no fall marathons for me. My next marathon will be Boston in the spring.
What is the toughest run or race you've ever participated in?
I ran the infamous 2012 Boston Marathon in 90-degree conditions. I consider it a very formative race in terms of my personal running career – there were a lot of lessons to be learned in terms of managing expectations and adjusting a race plan on the fly. I still don't like saying my finish time out loud because it was so much so slower than my goal, but I'm undoubtedly a much stronger runner now for having endured that experience.
What's your favorite part about being a DCRR member?
I really enjoy the small-scale club races. The price is right, and they're a great opportunity to get more racing experience and test your fitness level as you're training for bigger races.
What's the most important lesson running has taught you?
Just the other day I saw a quote from Bill Bowerman: "There is no such thing as bad weather, just soft people." That's how I feel. For me, getting serious about my training meant that I was getting up at 5:30 or 6 every morning and getting my miles in, no matter what else was going on. I've been able to sort of take that "no excuses" mentality and apply it to other aspects of my life, probably most notably my career.
What is your favorite route in the area?
Catching the Georgetown Branch Trail in downtown Bethesda and meeting up with Beach Drive and then heading through Rock Creek Park. If there's a more beautiful route on a fall morning, I haven't found it.
What race day traditions do you have?
I don't listen to music during training runs, but I've found that music in the couple hours before a marathon really puts my mind in a good place. I usually listen to the same playlist, assembled meticulously over the last couple years. Also, a big bowl of Wheat Chex and a pot of coffee a couple hours out are musts.
What's your proudest running moment?
Probably completing the Boston Marathon in spite of the aforementioned conditions. To tell someone knowledgeable about running that I've run Boston is a pretty cool feeling.
What's the farthest and/or fastest you've ever run?
I ran a 2:53 at the Philadelphia Marathon last fall. I think I still have a lot more room for growth, but for now that's my PR.
What's your life like outside of running?
Well, my wife and I are in the midst of relocating from Dupont Circle to Bethesda and then we have our first child, a baby boy, coming in August so that's all pretty exciting and surreal. Other than that, following the Nats, concerts, books, movies.
What is one thing you wouldn't run without?
My Garmin. I always track my pace fairly religiously and then upload my run to Strava as soon as I'm done.