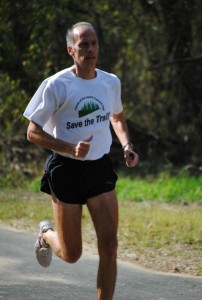 When did you begin running and why?
I began running in 1984, mainly to get into good shape. Running provided the easiest way to gain fitness.
How did you find out about DCRR and when did you join?
I moved into the area in 1986, and enjoyed the first few races I did with DCRRC, so I joined that year.
What are you training for right now?
I just competed in the USA Track & Field National Masters Outdoor Championships, where I was fortunate enough to place 2nd in the 10000m and 3000m Steeplechase, and 3rd in the 5000m for my age group (50-54). I'll take a little bit of mental downtime for the next few weeks, and then begin ramping up for some fall races, when the temperature is much cooler.
What is the toughest run or race you've ever participated in?
When I ran the Cherry Blossom 10 miler in 1998, I was in peak shape, and finished in 54:05. I remember coming home afterwards, and just falling into bed, totally exhausted, and waking up a few hours later a being barely able to move around the house. I was probably running at my maximum red line the whole way in that race.
What's your favorite part about being a DCRR member?
The best part of DCRRC for me are all the club members I've met, the social activities, and the well organized races.
What's your favorite route in the area?
On my longer runs, I enjoy running on the W&OD trail in Arlington. It's a very runner friendly path, and sometimes I see other runners that I recognize.
What's the most important lesson running has taught you?
Running has taught me that you can be your best if you never give up. Pushing through when you're tired or when things get tough, will get you to your goals, and it will be worth it once you've put in the work necessary to reach that goal.
What race day traditions do you have?
I do have a few race traditions, but the ones that help the most is making sure that I wake up at least 2 hours before morning races, and 30 minutes before the race, going over my game plan in my mind. Then get my warm-ups in, and execute the plan.
What's your proudest running moment?
I'm proud of the PRs that I've set (4:37 mile, 15:48 5k, 33:15 10k, 54:05 10 mile, and 2:37 Marathon), and winning National Championships (10000m and 8k in the 40-44 Age Group, 3000m Steeplechase in 45-49 Age Group, and 4x800m Relay in 50-54 Age Group), but recently, on July 4th I completed my 5,000th career race at the National Senior Games in Minneapolis MN. My parents and two of my sisters and their families were there to celebrate this achievement.
What's your life like outside of running?
I really enjoy spending time with my wonderful wife Meg, and my children, Evan and Paige, who keep me very busy with all their activities during the school year and in the summer.
What is one thing you wouldn't run without?
A good pair of shoes!