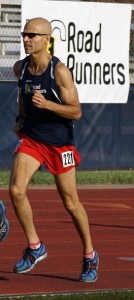 When did you begin running and why?
I started running as a sophomore in college in 1978 at the University of Michigan. My college girlfriend ran to stay in shape for soccer and I felt like I needed to keep up with her and keep the competition away. Then one of my roommates (and now life-long friends) kept dragging me out to run with him as he trained to stay in shape for the Michigan baseball team. I ran 2-3 miles a day a few days a week through the school year. I stayed in Ann Arbor for the summer school session and my weight lifting buddy said to me one day, "hey Rich, you running the Dexter to Ann Arbor run on Monday?" That Monday was Memorial Day 1979. Knowing no better I said, "Yes, of course". Turns out it was a 7 and 15 mile race and I had never run more than 3 miles. Thankfully we were running the 7 mile race. The course was beautiful along the Huron River, I average 7 minutes a mile and I was hooked.
How did you find out about DCRR and when did you join?
Two friends at work, Chris Turner and Jesse Saldana, were active club members in years gone by. I coordinated running teams for the Army 10 Miler at work and they were regular participants. In 2009 I turned 50 and set a goal of qualifying for and running the Boston Marathon again. I had run Boston in 1989 and that was the last of my 11 marathons at the time. I had been training alone since moving to the DC area from California in 1990. In California in the 1980s I always ran with my running club, the Stevens Creek Striders. I enjoyed great running successes in the 1980s but failed miserably to qualify for Boston at the 2009 Marine Corps Marathon. I was open to help. Jesse and Chris said "you should join up with the DC Road Runners, they are right there in your neighborhood". I did just that. Started going to SLRs and Thursday morning track as a regular. I qualified for Boston at the 2010 Marine Corps Marathon.
What are you training for right now?
I am training to run the Napa Valley Marathon on March 2. That goal I set in 2009 for running the Boston Marathon again has not yet been achieved. Sadly, I have been set-back with several bad injuries over the last few years and now need a new qualifying time. I hope to get that time in Napa and then run Boston in 2015. Of course I turn 55 the day before the Napa race and that gives me a very nice 10 extra minutes on the qualifying standard.
What's your favorite club race?
Going away, it is the Track Championships. I have always been a track and field fan and the mile/1500 is my favorite event. From the youngest of ages as a kid growing up in New York City we had the Wannamaker mile. I watched the Olympics, World Championships, and any track meet that came on TV. Being able to compete in a mile event at the DCRRC meet is challenging and so much fun. Mile track races are also few and far between these days so I was very excited that the club was part of the Bring Back the Mile series of races. Of course just as good as competing is being able watch and cheer for all my running friends, club members and my three sons as they all compete in the mile.
What's your favorite part about being a DCRR member?
It's the people and what the people do on behalf of DCRRC. The people are the best. Of course runners are generally great people. I have made so many wonderful friendships. I love the fact that the DCRRC promotes running in the community. It takes great people to do this successfully and the DCRR are very successful. The volunteerism is infectious. I love helping with races, bringing drinks to SLRs, coaching Thursday morning track, the Army Ten Mile training program and the Reading and Running program.
What's the most important lesson running has taught you?
It takes dedication and perseverance to achieve running goals. I love running and competing but achieving my running goals is hard work. I love the challenge. In 1982 I set a goal of qualifying for and running the Boston Marathon. The qualifying time was 2 hours 50 minutes in those days. I tried and failed 9 times. Each time learning something and working really hard for the next attempt. It took 6 years but in 1988 I qualified. I ran Boston in 1989. Now I am at it again. I started the journey to get back to Boston in 2009. Things have not gone as I planned with several bad injuries over the last few years after 32 years of running over 2000 miles a year and pretty much injury free. Here I remain, dedicated and determined and ready to persevere again.
What is your favorite route in the area?
Hands down it is the Battery Kemble Loops SLR route. And yes, I always do at least two loops. It has everything nice for runners in the DC area. Of course some may argue those hills are not so nice. I love them. They build character. You get to cross the Potomac on one of many great bridges, run on the Capital Crescent Trail, take on some tough hills, run on trails and of course the views from Potomac Avenue (especially in the Fall).
What race day traditions do you have?
I always take a shower on the morning of a race. Yup, going right out the door to sweat and I want to be clean. Makes me feel fresh and fast. Maybe this is why I am a terrible evening racer? Additionally, I almost always listen to the song Born to Run by Bruce Springsteen on my way to every race.
What's your proudest running moment?
Running and finishing the Boston Marathon in 1989. It was so very special and my parents were there to see it. Outside of marrying my wife Vicki and the birth of our three children, that day in Boston remains the best.
What's your life like outside of running?
I have a wonderful wife and three sons. We love fun vacation adventures as a family. I am a Boy Scout leader and proud dad of two Eagle Scouts (so far). I love leading high adventure backpacking trips. By day I work for General Dynamics IT and am their Chief Technology Officer. I am also an avid sports fan and sports trivia nut. As many know I also bleed maize and blue for Michigan in the college football and basketball seasons. Tough year for football!