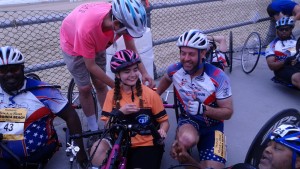 When did you begin running and why?
I began racing my handcycle in March 2013 after it was donated to me by Preston's March for Energy. I had been pushed in a racing stroller by Team Hoyt Virginia Beach from the age of 6. At age 9 I saw a Marine Vet on a handcycle at an 8K and told my mom, "I don't want to be pushed anymore. I want that!" Nine months later, thanks to God and good friends, I received my first handcycle. I graduated up to a faster model last June thanks to two grants that came through from Athletes Helping Athletes and Challenged Athletes Foundation. I race my handcycle because it's fun, I like to make people smile and I like to go fast. I have gotten up to 24 mph on a downhill stretch at Burke Lake.
How did you find out about DCRRC and when did you join?
My mom found a race you were hosting on the Running USA website and signed me up. I joined that same month, September 2015.
What are you training for right now?
I am training to improve over last year's times and for the upcoming Outer Banks Southern Fried Half Marathon on November 8.
What is the toughest run or race you've ever participated in?
The On The Runway Ciderfest 10K in Williamsburg last November. It was 22 degrees outside and my legs became frozen and numb during the race since they are immobile while I am handcranking my handcycle. I needed help to stand after the race. The race also looked like a flat course but had enough of a gradient that I had to work really hard to keep going.
What's your favorite part about being a DCRRC member?
I have enjoyed them a lot. Everyone is so friendly and accommodating and helpful. I especially enjoyed the Paul Thurston 4.5 miler at Burke Lake.
What's your favorite route in the area?
Burke Lake is my favorite route in the DC area. That was where I got up to 24 mph on a downhill race section.
What's the most important lesson running has taught you?
Being low and hard to see I have learned to be considerate and patient with others around me and to be careful not to run people over.
What race day traditions do you have?
I stretch out my arms before the race and eat some energy snacks. After the race I like to eat bagels and cream cheese.
What's your proudest running moment?
My proudest running moment was racing the Marine Corps Half Marathon at Camp Legeune, N.C. in 1:14:06.
What's your life like outside of running?
I like to hang out with my best friend, Hannah and play Animal Jam on the computer. I am involved in other sports and practice archery as well as participate in the Special Equestrians Program at Triple R Ranch. I go to Physical Therapy every week. I enjoy school, especially Math. I like to annoy my big brother. I attend church every week with my family. I like to invent things. I collect foxes because they are my favorite animal.
What is one thing you wouldn't run without?
I would never race without my helmet (and my camelpak for long races).