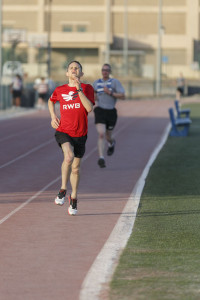 When did you begin running and why?
Growing up I always ran to train for sports, specifically soccer, and then later on in high school I ran as a way to prepare for Brazilian Jiu-Jitsu and Judo tournaments. I didn't get serious about it until college when I had less time for jiu-jitsu and running just fit my schedule better.
How did you find out about DCRR and when did you join?
I moved from MD down to Arlington in 2011 and I met Erik Price at the Pacers fun run in Clarendon. He convinced me to come out to the Saturday long runs and then talked me into training for a marathon. Before that I just raced 5ks and 10ks.
What are you training for right now?
Honestly, 2014 was a pretty rough running year for me. I lived in the Middle East all last year and worked on an Army base as a contractor. I burnt myself out running and working 70 hour weeks just to return to the US this past spring with a nasty insertional achilles tendonitis injury that I am now finally getting over. Now that I'm better, I am just loving running with groups again! My 2015 goals are to not get injured and if that seems like its working, go for a PR in the 5k.
What is the toughest run or race you've ever participated in?
See the picture above. This was a 5k on base where I passed the guy behind me to take second place in the last half mile and then I heard him speeding up when we hit the track. Man that hurt. On base we used to have like 3 or 4 5ks a month on this same loop and the air quality over there isn't too great so those were always just miserable. We used to affectionately refer to it as "The 5k pain box." One time we had a half marathon planned but we got hit with a huge rain and sandstorm the week before. There was flooding everywhere so they had to modify the course and we just ran the 5k route 4 times and then a few laps on the track to finish off.
What's your favorite part about being a DCRR member?
Coming from Irish ancestry, I have a bit of the "gift of the gab." I love to talk and I love to exercise. The fact that DCRR sets out specific times every week where I have the opportunity to do both of these things, at the same time, almost feels like you are cheating the laws of exercise. But seriously, everything is fantastic from the training plans to the happy hours to the low key races. I love it all.
What's your favorite route in the area?
I like anything on the C&O Canal Towpath. If you are feeling good at the end of a long run you can really get rolling on it.
What's the most important lesson running has taught you?
For me, running and training jiu-jitsu sort of just turns the volume down on life and allows me to enjoy the times where my face doesn't look like the picture above.
What race day traditions do you have?
A big muffin or pastry with coffee is my go to after races and long runs.
What's your proudest running moment?
In 2012 I decided I wanted to run sub-5 in the mile. I trained pretty hard and ran a track race in April in 5:00 flat :(. I trained harder, bought a pair of spikes, and ran 4:54 in a race in July that year.
What's your life like outside of running?
I work with computers, train jiu-jitsu a few times a week, go to church on Sunday, and spend anytime in between with my family and friends.
What is one thing you wouldn't run without?
The DC Road Runners!!