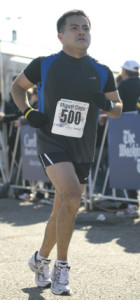 When did you begin running and why?
I sprained my ankle playing soccer in November 2008 and I was so mad I couldn't go spinning at the gym that I punished myself by going running (Yes, I know it's crazy). I never liked running in high school or college because we would go around the track and to me going in circles is really boring. Once I got better, my friend Cynthia asked me if I wanted to run the Cherry Blossom. I remember calling her in December and telling her I was up to 8 miles and she said, "I haven't started training yet! The race is in April." I started to enjoy running more and more and I decided to sign up for a marathon the following year.
How did you find out about DCRR and when did you join?
Before registering for the 2009 National Marathon, I needed a qualifying time from a race over 10K. I did some research online and found the DCRRC webpage. I signed up for the now-defunct DCRRC Capital Hospice 12K and completed the race in 54:13, not bad for my first running race ever! I thought ID was required when registering for races so I showed my ID at registration. The girl who took my money looked at me as if I had four heads and said, "Yeah, we don't check IDs." After the race I read on the website about SLR and decided to become a member. I've been a regular on Saturdays ever since.
What are you training for right now?
I'm training for Steamtown and Marine Corps Marathon.
What's your favorite club race?
The annual picnic – all the ice cream you can get!
What's your favorite part about being a DCRR member?
Everyone I've met in the last 4 years of being a member has been great. Running has become equally a social and sports activity. I can't remember how many times I've talked to people about my work/life while running SLR and they've done the same. It's clear that becoming a member has enriched my life by meeting new people and becoming a better runner.
What's the most important lesson running has taught you?
Never to give up! In the winter you have to fight the voices in your head that say just do it tomorrow and in the summer you have to fight the heat and humidity. It's just like life, you have to fight those things or people that tell you to quit or give up. This last year my life has been turned upside down and at times I've said to myself, "okay, It's mile 21 of a marathon, it's 100 degrees, blisters are making this painful and my knees hurt. What are you going to do? Give up or continue?" The choice is obvious!
What is your favorite route in the area?
I like running around the monuments, especially in the spring when the Cherry Blossoms bloom. I also like running around Burke Lake because that's where I trained for my first marathon. I can literally run around the lake with my eyes closed; I remember every turn and hill on that course because of how painful it was training for my first big race.
What race day traditions do you have?
For my first marathon race, my parents got me a red sweatshirt and I usually wear that the day of a marathon. For almost all races I take I usually listen to a music playlist with some 311, EMINEM, ATARIS, BUSH, ALLISTER, SUM 41, ICE CUBE, and OFFSPRING (Yes, weird mix).
What's your proudest running moment?
Running the National Marathon in 3 hours and 19 minutes as my P.R. and first marathon! Months before the race I was so scared I wasn't going to be able to finish that I completed every single training run. I remember collapsing two steps from the finish line. I was taken to the medical tent and fortunately I was fine. I wasn't fine when 30 minutes after crossing the finish line I went to look for my parents and I saw them still waiting for me to cross. They said they had gone to get a hot dog because they thought I would take me 5 hours to finish.
What's the farthest and/or fastest you've ever run?
My longest running race was the North Face 50 Miler this past June. I completed the race in 10 hours 54 minutes. Officially, my fastest race according to Athlinks.com (Yes, I'm a member) was the 2012 Bluemont 5K in 21:06. However, my body feels the 2012 Cherry Blossom was my fastest in 69 minutes.
What's your life like outside of running?
I work with families, children, and juvenile delinquents. It's very interesting and challenging at the same time but one thing for sure is that there is never a dull moment. I like to volunteer my time to help with rescued animals and other social causes. I also enjoy going to college basketball and Redskins games.
If you could be a pro athlete in any sport other than running, what would it be?
I would like to compete in World Championship IRONMAN in Hawaii as a pro-triathlete. I completed CHESAPEAKEMAN last year as my first Ironman and it was so much fun. It took me over 13 hours but the whole experience was great, from starting as the slowest swimmer to passing many people on the run. Yes, I'm pretty competitive if you haven't noticed.