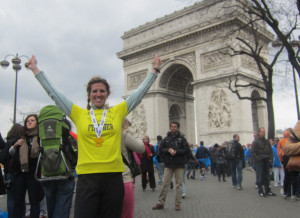 When did you begin running and why?
I have always been an athlete— average in many sports, great in none— but not a runner. I grew up playing sports— soccer, basketball, and softball. I began running casually when I was in my 20's. Eventually the co-rec sports of DC and Arlington just weren't enough. This coincides at some point with the fact that I went to Boston College I'd see the marathon pass by campus each year and say, "Next year I'm going to run this marathon." At 29 I ran my first half-marathon with two months running experience. At 31 I had completed my first marathon so I could check that off of my bucket list.
How did you find out about DCRR and when did you join?
I joined DCRR in the summer of 2012 when I returned to Arlington from living in Egypt. I had begun to run with a group, Maadi Runners, while living and teaching in Egypt. It was my first experience running with a group and I found it very motivating. When I moved back to Arlington, my two roommates, Robin and Chris, who had been running with DCRR, finally convinced me that waking up at 5:30am on a Thursday morning, while on summer vacation, wouldn't actually be that bad. Thanks to the camaraderie of the TMBC, I have realized that early mornings have been well worth it!
What are you training for right now?
I'm currently training for the DC Rock-n-Roll (March 2015) and Boston (April 2015). This will be the fourth year that I've run these two marathons in succession.
What is the toughest run or race you've ever participated in?
My strength is in long distance running. I would rather run slowly for a long time rather than running anything that actually requires me to run hard and fast. With that being said, I think the DCRR Mile Track Meet two years ago was the most difficult race I've run. Because I don't really consider myself "a real runner", I felt incredibly intimidated being at my first actual track meet since I was 10 years old (5K while living in Liberia). I had no idea how fast I could actually run a mile, like I said, I don't like to run fast. As I watched increasingly faster heats go by I became increasingly intimidated. Eventually I lined up with a huge group of really well sculpted women and the gun went off. I ran a sub 6 minute mile which is something I never dreamed of doing. It was a great accomplishment for me. And my lungs hurt for the next three days!
What's your favorite part about being a DCRR member?
Hands down, my favorite part about being a DCRR member is the people I've met. Everyone is incredibly knowledgeable, friendly and encouraging. I've been inspired, educated, and pushed in a way that I could never accomplish if running on my own. Thank you!
What's your favorite route in the area?
I like different routes for different reasons. Sometimes a "boring" out and back along the WO&D is just what I'm in the mood for on a long run— something where I don't have to think. Sometimes my favorite route is any route that I can get somebody to run with me. Recently I ran with Rich from Arlington through Georgetown to the Capitol and back. City running before dawn broke was amazing.
What's the most important lesson running has taught you?
Running has taught me self-discipline. Although I will always cringe at setting the alarm at times I once thought unimaginable, I do it. And because I'm a part of the DCRR team, and my team is counting on me to show up and run together with them, I get up and I do it day after day, week after week. And in the end, the hard work and self-discipline always pays off. A feeling of accomplishment and satisfaction pass over me knowing that I have done more by 7am than most others who have not even arisen for the day.
What race day traditions do you have?
My clothes are laid out the night before. Two alarms are set. On the morning of the marathon I'll eat a piece of toast with peanut butter, banana and honey. Glide applied-check
What's your proudest running moment?
My most proud running moment was when I completed the Richmond Marathon a few years ago. I shattered my previous PR by about 15 minutes largely in part due to the fact that I had begun to run with DCRR. I thought I had started too fast, but somehow kept the pace steady mile after mile. When I finished I kept looking at the clock, I couldn't believe how I had shaved so much time off of my previous efforts. I received my medal and sat in the grass by myself for almost 15 minutes by myself really proud of what I had accomplished.
What's your life like outside of running?
I work, a lot. I'm a teacher and I devote most of my waking hours to the students in my classroom. That is what I do— I run, work, and sleep. Repeat.
What is one thing you wouldn't run without?
No response. But I would like to put in a plug for any and all podcasts! I love listening to Freakonomics, The Moth, Serial, Coffee Break French, and This American Life while on my solo long runs. It passes the time. Sometimes I learn or laugh, but the stories keep me company. Hooray for podcasts!