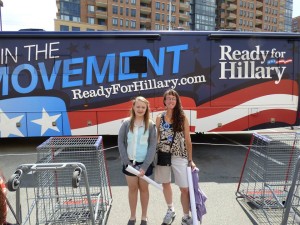 When did you begin running and why?
At 14 months. I couldn't walk before then, but once I started, I kept going. I started racing freshman year of high school. I ran 'distance' (1 – 2 miles) on my high school track team because I was the only kid who would. I didn't do real distance until I was 36. I ran into (not literally) an old friend who had gotten into running marathons. He said he was 20 pounds overweight when he started training. I figured if someone who was 20 pounds overweight could do it, I certainly could.
How did you find out about DCRR and when did you join?
June 2006. I googled 'dc runners.' Of course DCRR was the first result. The training runs were all metro accessible, so I didn't even look at the other options.
What are you training for right now?
Nothing. I never train for anything; my goal is to do something I can keep up with in the long term. I just do a long run almost every week and shorter runs a few times a week, then show up at races if the weather is reasonable.
What is the toughest run or race you've ever participated in?
Jan. 2007 Arizona Rock 'n Roll marathon. I trained from never having run more than 4 miles in my life to running 26 miles in six months.
What's your favorite part about being a DCRR member?
Carpooling with Miguel Cuya.
What's your favorite route in the area?
My house, to the W&OD, to route 7 & back. There are drinking fountains at the Vienna Community Center and at route 7. Very few streets to cross, not too hilly. And I don't have to drive. And I don't get lost. If I can't make it back, I can find my way to a metro station. But that only happened once in 8 years.
What's the most important lesson running has taught you?
Before I joined, I thought the membership would be from all diverse backgrounds and economic statuses. Because exercise isn't limited to a certain demographic, right? But we're all well-educated white people and a few well-educated brown people. I guess earning an education and earning an athlete medal both require extraordinary self-discipline.
What race day traditions do you have?
Eat a banana, stretch, get in Miguel's car, post whatever Miguel said in the car on Facebook.
What's your proudest running moment?
The Gar Williams 1/2 marathon of 2013. I was in a bike accident at the bottom of a river gorge in October 2013 – no cell service, 12 miles from the car, 2 miles from the closest road. I had to sit for over two hours covered in blood, in the dark, with wolves howling, while my husband went to get the car. I could barely walk for the next few weeks. I went for a quarter mile hobble-run in November. I tried another 'run' the next day and kept increasing my distance for several weeks. I soon realized that I'd be able to finish the Bread Run. I figured if I could do 10 miles the week before the 1/2 marathon, I'd sign up. Which I did. It took me over 2.5 hours to finish.
What's your life like outside of running?
My husband and I occasionally take destination bicycle trips. We go on a lot of hikes and spend most of our at-home time in our library, which is the room you enter into when you come in our front door. I taught computer programming as an adjunct professor last year and now I'm working on http://sentenceZing.com with one of my former students. I spend most of my time on http://CrowdPublish.TV, which offers free web sites to authors who own the rights to their work. I often go to techie meetups and I'm very involved with the local author community (I call it the Local Authors Scene). I encourage authors to post their events on the site and gather support to attend those events. I'm an advocate for authors being the face of their own entrepreneurial contributions to society and to not be beholden to The Man. I've written a book & produced a movie about the experience of being a woman engineer, called "Budget Justified: The Waste, Fraud and Abuse of Government Workers."
What is one thing you wouldn't run without?
Good shoes. None of this barefoot running stuff.