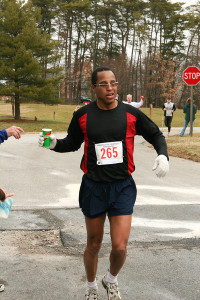 When did you begin running and why?
I began running in 1976, mainly to stay in shape and as a stress reliever from my job.
How did you find out about DCRR and when did you join?
I found out about running clubs in the region from a colleague at my job – his brother was a runner. I then went online and found information about DCRR and joined the club around 2000.
What are you training for right now?
Marine Corps Marathon coming up October 25, 2015. This will be my 8th Marine Corps Marathon race and I hope to run fast enough to qualify for the 2016 Boston Marathon. I ran Boston back in 2006 with a time of 3:24:47. My goal is to go back and at least match that time or maybe beat it!
What is the toughest run or race you've ever participated in?
By far the JFK 50 Miler, November 2007!!! I called this race "The Beast." The course was grueling with every imaginable terrain, mountains, dirt roads, trails, hills, large boulders, etc.. What made it even more challenging were the altitude changes and the fact that at the time I had several injuries. I was glad to have finished such a tough course in 10:59:03. The second toughest race I participated in was the 2003 Marine Corps Marathon not because of the course but because I arrived at the starting line approximately one-hour late and began running with the 4 1/2 hour pace group. I had to zigzag my way through the runners but ultimately ran a personal marathon best with a 3:12 chip time. After the marathon, I was so stiff and sore I had to wait several hours before boarding the Metro train to return home.
What's your favorite part about being a DCRR member?
My favorite part about being a DCRRC member is the camaraderie of all the members and the many, many great races the club sponsors. I particularly like the Snowball and Bunion Derby series. There is always a great race no matter the season!
What's your favorite route in the area?
My favorite route is the Mount Vernon Trail, Belle Haven in Alexandria VA. In the summer it provides shade, several water fountains and is surprisingly challenging with its many twists and turns which adds up to a good workout.
What's the most important lesson running has taught you?
Running has taught me that with the right mindset and proper training you can accomplish anything.
What race day traditions do you have?
I really don't have race day traditions per se, I just show up ready to run well in advance of the start.
What's your proudest running moment?
Completing the JFK 50 Mile race for the second time, November 2008. This race challenged me mentally, physically and spiritually. As the saying goes, it was no walk in the park but I did it with a time of 10:29:56, better than my 1st JFK 50 Miler!
What's your life like outside of running?
I thoroughly enjoy spending time with my family, my lovely wife Sharyn and my 9 year old grandson Julian who just went to 4th grade. We enjoy traveling and get away whenever we can. I am also an avid sports fan so we catch a Wizards, Nats, Redskins or Terrapins game whenever we can. My wife's honey-do-list keeps me busy around the house all the time and I really enjoy helping Julian with his schoolwork- especially mathematics. I also like to go to concerts and recently took Sharyn to see Chicago and Earth, Wind & Fire at the Jiffy Lube Live in VA. It was great!
What is one thing you wouldn't run without?
A good mental attitude!