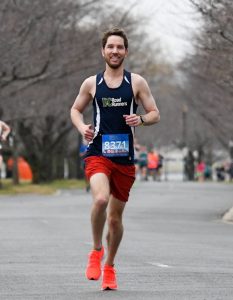 When did you begin running and why?
I ran a year of cross country and outdoor track my junior year in high school but was mostly using them to keep in shape for Soccer after not making the Varsity team that year. I enjoyed the races but didn't take running seriously at the time. It wasn't until after college that I gave running a try again. The management consulting firm I joined after finishing undergrad is an annual sponsor of the Army Ten Miler, so I ended up racing it in 2011 on short notice after a few colleagues got injured. It seemed like a fun challenge and I ended up catching the running bug after the race, even though I was sore for a week. I've always been competitive (probably overly so if you ask my wife!), so it didn't take long for running (along with Cycling and Triathlon) to become a huge passion for me. I started doing a few races each year, and in 2016 I finally got more consistent with training and began to see huge increases in PRs across all distances.
How did you find out about DCRRC and when did you join?
I found out about DCRRC in late 2016 from Anna Suhring, who had recently joined the club. I joined shortly after in early 2017 coming first to a Monday morning President's Day run with then club President Rich Mendelowitz and his regular Monday group. I had been mainly a solo runner up to that point, but the prospect of joining a large club with other runners seems like a great way to make new friends and gain more running competition!
What are you training for right now?
Coming off PRs in all distances in 2019, I'm training for Boston and the London Landmarks Half Marathon this Spring and the NYC Marathon in the Fall. I'm hoping to run a sub 2:45 at Boston or NYC to get a Berlin Marathon time qualifier, but also want to focus on some shorter distances in 2020 (I really want to knock out a sub-5 min mile on both the road and track).
What is the toughest run or race you've ever participated in?
Probably back to my 2nd marathon and first BQ at the 2017 Shamrock Marathon. I was about a year removed from fracturing my pelvis and finding out I had a degenerative hip condition. I have had several long injury layoffs (two tibia stress fractures, muscle strains), but the hip condition was really worrying at the time. I had a solid three-month training block leading up to Shamrock in 2017, and at the time my goal was just to run a 3:20 or below. I also ended up tweaking my calf on black ice a few days before the race, and the race day weather was torrential rain/freezing rain and 40 mph wind with temperatures in the 30's. Given all that, my expectations were low and I wasn't sure my calf would even hold up for the entire race. I decided on a whim at the start line to just go out with the 3:05 pace group and see how long I could hang. It turned out I was able to keep up with the pace group and was able to scrape out a minor and unexpected BQ at 3:04:49.
What's your favorite part about being a DCRRC member?
My wife and I have made so many amazing friends through the club. The DCRRC community is really supportive and I love racing in the club Bunion Derby and Snowball Series races, along with meeting up with club members at races around the country. I love the competition that so many members of the club provide. It pushes me to go harder at each race as I aim to better both my previous PRs and recent PRs of others in the club!
What's the most important lesson running has taught you?
Consistency is key! To me, keeping consistent mileage is a much bigger factor in success (especially at the marathon distance) than knocking out that specific track session or tempo workouts. When I was able to commit to running at least 50 mpw, I found that my PRs dropped dramatically and that has continued as my mileage has gotten higher into the 70's and 80's.
What is your favorite route in the area?
Despite not getting out to this area as much as I would like, the National Arboretum is always a fun challenge for a long run. You get plenty of rolling hills, and it can be a less crowded way to see the Cherry Blossoms in the Spring.
What race day traditions do you have?
Always a Subway sub for dinner the day before (not sure how this started, but it has become routine for any race longer than a 10 miler). When possible, a post-race nap is one of the best rewards for a successful race.
What's your proudest running moment?
I had a very injury plagued 2018 season, having big injuries near peak week for each of my two planned marathons that kept me from doing those races. It was a tough pill to swallow not getting to use all the fitness I had built in 2018 and having to start back at zero in 2019. As soon as I was healthy though, I jumped into an abbreviated build for a 2019 marathon in Grand Rapids, MI. I was not sure where my fitness would be given the short timeline, but I somehow was able to knock 10 minutes off my previous PR and get my first sub 3 hr marathon (2:53:31). My wife and I had stacked the Chicago marathon only 5 weeks after, and I was even able to bring my PR down to a 2:50 at Chicago.
When I got my first BQ in 2017, I had thought maybe a sub 3hr marathon would be my final goal, but I am so driven by other club members and love the friendly rivalry we have that I hope to keep knocking this time down (at least until kids slow me down!)
What's your life like outside of running?
My wife Katie Stilling and I met thanks in part to DCRRC. We connected through Strava after the 2017 GW Parkway Classic, and a mutual club connection on Strava helped her know I wasn't some creepy stalker on Strava. We recently bought a house in Vienna, VA and we have been consumed by the joys of home ownership (well… crazy yardwork). I am a huge proponent of naps and snack time. I'm also an avid cyclist and love getting time in on my bike trainer as a supplement to my running.