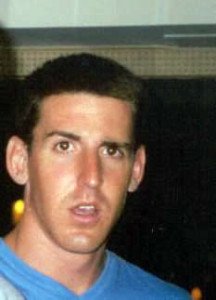 Q: How many years have you been running?
A: I started in the fall of 1989 by running cross country for Thomas Jefferson Middle School, so that would make it almost 15 years.
Q: What got you started running?
A: I remember during 5th grade that the middle school cross country coach came to my elementry school to do some recruiting for the following year. My sister had run cross country and played basketball for this coach, so he sort of recognized me. I wound up running the next fall, and placed 3rd in the conference meet with my sister's old running shoes because my mom didn't want to pay for new ones. She didn't think I'd be any good – to this day, she gets very embarassed when I tell that story.
Q: Share your thoughts on your experience as SLR Guy.
It was such a great experience. I met so many amazing people along the way too. I found out how much I really loved to sport of running.
Q: What is your favorite running trail?
A: In Indiana–Cow's Bogg
In Connecticut–Trail up to East Rock
In the DC area–Potomac Overlook trails
Q: What is your favorite SLR trail (if different from favorite running trail)?
A: My favorite SLR route is going up Glover Archibald, turning left on Mass Ave, and then coming down the Capitol Crescent.
Q: What SLR trail should Max and other course planners never have charted and exposed unsuspecting runners to?
A: To the Beltway and back on the Custis and WO&D Trails – absolutely the worst run!
Q: What's on your race schedule this year?
A: Run Vs Row, Cherry Blossom, and who knows this fall. I'd like to defend my title at the Quantico 1/2 Marathon.
Q: What's your favorite race?
A: My favorite race has to the Popcorn Panic in Valparaiso, IN. I ran it middle school, and now I go back home every couple years to run it. It's part of the Annual Popcorn Festival.
Q: What would you say was your most memorable race?
A: I have to break it down by my "careers":
In High School – 1995 XC State Finals. I got 14th Place earning a spot on the Indiana All-Star team, and my team placed 5th in the State.
In college – winning the Harvard-Yale-Princeton mile my senior year. It was a tight race down to the last lap. I ran a sub 28 sec last 200 m to win in 4:11:06.
Post-college – winning the 2001 Popcorn Panic.
Q: My Run from Hell, or the Run I Should Never Have Embarked Upon, is….?
A: Junior Year of college, the week before my 1st XC meet, I barely slept due to some serious emotional stuff. Still, I wanted to race. I started off great the 1st two miles of the 5 mile course, but that 3rd mile was (and still is) the worst of my running career. I ended up dropping out at the 5k mark – something I had never done before (and haven't done since).
Q: What are your PRs?
A: 5K: 14:57
10K: 31:18
10 mile: 53:20
1/2 marathon: 1:12:04
marathon: 2:44:06 (I've got losts of room to improve! Damn you wall at mile 22.5!)
Q: What is your average mile pace during SLR runs?
A: I think Richard put it best: usually 6:45 or whatever pace the jerk of the week chooses!
Q: What's the best running shoe you've ever worn?
A: 1998 Adidas Ozweego (the next year, Adidas totally changed everything, but put the same name on them. I was very upset). Why do shoes companies do this!?!?!
Q: What do you currently run in?
A: Adidas Boston Classic
Q: How many pairs of running shoes do you use per year?
A: Five to six.
Q: What is the funniest thing about your current job? (No need to divulge any classified information :))
A: One of my co-workers looks like Mr. Burns from the Simpsons. The resemblance is uncanny!
Q: What's the worst job you have ever had?
A: I was the only male cashier at a grocery store (and I only got promoted to cashier AFTER I spent a year at Yale). People would either avoid me because they weren't used to a male cashier, or I get hit on by single moms.
Q: Name your favorite pizza.
A: Naples Pizza in New Haven, CT
Q: What is the most recent book you've read?
A: The Alchemist.
Q: Who is/are your favorite Nobel prize winner(s)? A: John Nash – his work in Game Theory can be applied to so many applications.
Q: If you were a car, which car would you be?
A: Beyoncé Knowles' car. She can sit on me any time! That butt's booty-licious!
Q:Caribbean Cruise or Appalachian Trail Hiking? Why?
A: Cruise because I've never been on one!
Q: Preferred Starbucks espresso drink?
A: Caramel Macchiatto, but the Gingerbread Latte is so good too!
Q:Top three movies ever seen?
A:
Swingers
Old Schools
Say Anything
Q: What's your preferred (or least repulsive) Gatorade flavor?
Lemon-Lime Ice.