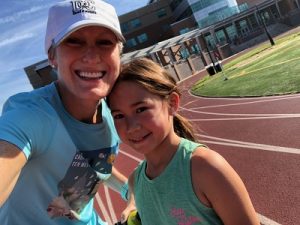 When did you begin running and why?
The first time I began running was in 2008, after I'd been diagnosed with a bunch of slipped discs in my back. The small PT business that fixed me, in Tampa, FL, was run by three marathoners; they took one look at me and said, "We're going to turn you into a runner." Although my response was "Like hell you are," they tried—probably aided by the fact that Tampa has no hills—and over the next couple years, I ran a few 5ks, a 10-miler, and a half-marathon. Then I bought the first of several road bikes and, except for the occasional treadmill gym warm-up or 5k, stopped running.
When I moved to D.C., the road biking community wasn't as welcoming as I had hoped. Because I was fit, a colleague talked into signing up for the Army Ten-Miler in Fall 2017. Thanks to my ineffective training and hot, humid weather on race day, it was bad. (My first comment to said colleague at the finish line was "I'm done running distance." Ha.) A month later, the same colleague signed up for the 2018 Rock and Roll Half, and after a friend dared me to, I did too—then figured out how to prepare more effectively. Despite an Achilles injury on race day, I pulled off a big PR, felt great at the end, and toyed with the idea of signing up for the Marine Corps Marathon. I got in via rush registration and realized there was no turning back. That's when I started running seriously. One perk: my messed-up lower back has not been a problem since.
How did you find out about DCRRC and when did you join?
I accidentally found out about the DCRRC in December 2016, a few days after I moved here. I lived around the corner from N. Meade Park and went for a run because it was too cold to hop on my bike. There was a leftover cue sheet from that day's SLR on the rock in the park. I kept it, then went home and Googled DC-area running clubs…and did nothing more.
When I signed up for the 2018 MCM, I knew I couldn't do it alone. I'd remembered the Google search results and signed up for the Marathon Training Plan, then became a member after the first group run. I can't believe that was last spring!
What are you training for right now?
I'm running the MCM — mostly as a supported training run — on October 27, then racing the Philadelphia Marathon on November 24.
What is the toughest run or race you've ever participated in?
Last spring's Rock and Roll Marathon. The course's second half had been reworked, yet the online info never changed. As a result, the course was hillier than any of us expected, with over 1000 feet of climb, much of it in the second half. I'd also been down with a bug for most of that week and ran anyway. The only bright spot was the DCRRC water stop at mile 17, where a friend gave me the (much appreciated) pep talk that got me to the end. While the race result wasn't the kind of double-digit PR I trained for and I was disappointed, I now realize that all runners have races like this. So many in our community took time to remind me that the PR was an accomplishment and it changed my perspective. In retrospect, that initial disappointment was misplaced: I found a way to the finish line on what was clearly not my day. I'm proud of that.
What's your favorite part about being a DCRRC member?
Everyone is warm and welcoming, which means I get to learn from — and pick the brains of — better, more experienced runners.
What's the most important lesson running has taught you?
Bad runs provide as many (or more) learning opportunities as good runs. Related, I've also become Pollyanna.
What is your favorite route in the area?
Arlington Triangle. I'm always so happy when we get to Custis. Apologies to anyone who is/was near me at this point during 9/28's SLR.
What race day traditions do you have?
Show up and run. That's it.
What's your proudest running moment?
A 10-mile PR at the 2019 Cherry Blossom, after getting caught in bottlenecks for the first three miles and missing my times by over a minute/mile. It's also possible I stopped briefly to pet a golden retriever puppy after mile 9, but that only cost me a few seconds (and was totally worth it).
What's your life like outside of running?
If I'm not running or working, I'm biking (I ride a century with my brother every August), or reading—lots of reading. I also spend time in Columbus, OH, visiting my niece and nephew. My niece is 9 and has run almost five miles with me! She's the cute kid in the picture.