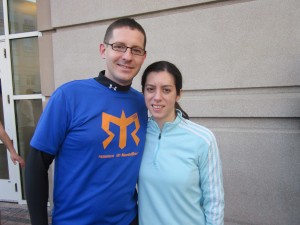 When did you begin running and why?
I started running in 2002, about a year after I graduated from college. I actually started running on a treadmill at my gym (something I avoid now at all cost) and then started running outside when a neighbor and I signed up for the Army 10 miler in the fall of 2003. At the time it was pretty much to get exercise and to try to stay in shape.
How did you find out about DCRR and when did you join?
A friend of mine worked at the RRCA headquarters that was then in Alexandria and when I started thinking about running my first marathon I wrote to her to ask if she had any local training programs she would recommend. She told me about the DCRRC training program and I joined in the summer of 2004. I ran Marine Corps that year – Kerry O'Brien and Max Reid ran the training program at the time and I loved it!
What are you training for right now?
I am due with our first child in January 2015, so any training I'm doing now is for the baby, not for speed or races! But I'm still running several times a week and hope to keep running as long as I can. I may sign up for one or two shorter races this fall, but I'm taking a break from speed work for now.
What is the toughest run or race you've ever participated in?
I ran the Wilson Bridge half marathon in 2010, I think the first year they held the race. The race started downhill and I started running about 10-15 seconds faster per mile that I should have been running. I got to mile 8 or 9 and felt like my body was starting to shut down. The last 4-5 miles were awful. I ran Chicago in 2007, the year it was in the upper 90s, and this half was much more difficult for me.
What's your favorite part about being a DCRR member?
Friends and getting to run with a group of friendly people each week! And especially the fact that I met my husband in 2006 through DCRRC.
What's the most important lesson running has taught you?
Maybe the importance of being dedicated to something you care about and that is important to you, something that you do on good days or bad days, days you feel great and days you feel terrible, something that you do because you can't imagine not running.
What is your favorite route in the area?
There are so many good ones, but the Mount Vernon trail along the river or running along the Mall are hard to beat. Maybe the Marymount loop too, despite all the hills! I know that's three routes…
What race day traditions do you have?
I'm always sure to have protein and carbs the night before, but I don't have many day of traditions beside having everything laid out and ready for the morning.
What's your proudest running moment?
Probably running a 1:39 half in Richmond after trying to break 1:40 for about 4-5 years.
What's your life like outside of running?
My husband and I recently bought a townhouse in Alexandria and love living in northern Virginia, I've always loved reading and like volunteering and travel (and I'm trying to learn to play the guitar!). I've worked at the American Psychological Association for 11 years and it's a great place to work.
What is one thing you wouldn't run without?
Peanut butter! I have it before every run.