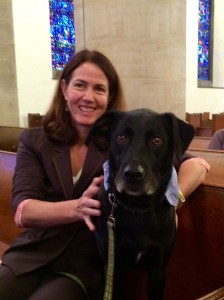 When did you begin running and why?
I started running at age 15 as a way to blow off steam after a perceived insult from my dad (I thought he was calling me fat). I stormed out of the house, ran for a couple of hours, then came home and pouted. The next day, my dad was waiting for me as school let out. He drove me to Omega Sports and bought me my first pair of running shoes (all without saying a word to me). He has since seen me run in Boston in 1998 and again in 2007, as one of my strongest supporters ( along with my mom, of course).
How did you find out about DCRR and when did you join?
I saw a group gathering on a Saturday morning in 1990 at Iwo Jima and decided to see what it was all about. It was my first group run of over 10 miles that wasn't a race!
What are you training for right now?
Ragnar Trail Appalachian in June and then some 50Ks in the fall.
What is the toughest run or race you've ever participated in?
Toughest run was the Mid-Maryland Ultra 50K in 2014… Despite having run the same race in 2013, in 2014 it was so cold that my eyes couldn't stop watering, I had several toe catches on tree roots and almost wiped out on ice, and when it started snowing, I pulled out of the race with 4 miles to go, after already having run 27 miles. It was the only race I didn't finish.
What's your favorite part about being a DCRR member?
I love being able to talk up the club to coworkers and other running friends to get them involved in our races and training programs, hopefully as members. The camaraderie is worth sharing!
What's your favorite route in the area?
I like the Arlington Triangle route…a little bit of uphill, a lot of flat, a little downhill, and only a handful of street crossings.
What's the most important lesson running has taught you?
Any day where there has been time for a run is a good day no matter what else has gone on that day, and although the run itself might be tough at times, I am always glad to have gotten out there.
What race day traditions do you have?
I like to listen to UB 40 songs on the way there in the car, and then tie my shoe laces with an extra twisty-tie (like the kind from a bag of bread) so they won't come unlaced during the race.
What's your proudest running moment?
Having a decent time at Boston my second go-round after crying in front of my parents the first time…fortunately, they were there for the second time as well!
What's your life like outside of running?
What? There is life outside of running? I do try to get in some open water swimming, hiking, volunteering with my dog, and trying to be the world's greatest aunt.
What is one thing you wouldn't run without?
My trusty Timex IronGlo watch…